Industry
[Software] Performance Enablement Platform
Department
Marketing, Sales, People Experience, Engineering, and Leadership Teams
Results
Members have seen an average of 91 new connections since participating in the program.
8.8M in reach in the first 5 months
Increased LinkedIn engagement rate from 162% to 275%
+54.16% more new user traffic to our website from organic social media in Q3
Learnerbly Has a 54% Increase in Organic Social Traffic with GaggleAMP
Learnerbly uses GaggleAMP to increase brand awareness in the emerging performance enablement industry. With their Gaggle of just 25 Members across various departments, Learnerbly had the highest overall engagement rate versus their competitors in Q3 2022, racking up over 1K social interactions, more than 500 clicks, and a substantial reach of 5.8M. This crushes the benchmarks of organizations of similar size by nearly 3x in clicks, and more than 7x in reach and engagements.
Learnerbly is a Performance Enablement Platform. With Learnerbly, high-growth companies fill the knowledge gaps that have kept them from reaching the goals they set as a business, as teams, and as individuals. They fill these gaps with learning resources from over 250 curated providers including coaches, online courses, articles, videos, and books. Teams across 107 countries from companies like IDEO, CircleCI, King.com, Bazaarvoice, and HelloFresh use Learnerbly to perform at their best, grow in their roles, and contribute to the success of the business.
Competing in an emerging market, Learnerbly understood it needed to make a big push toward brand awareness to be competitive in this space.
"We're a smaller company making a splash in a space with well-known brands so we knew we needed to build our brand awareness in the most cost-effective way possible" stated Kassia Chatting, the Brand Marketing Manager for Learnerbly. "Our Learnerbees (employees) needed to feel empowered to focus on their personal branding through social selling while upskilling their understanding of social media and its business impact. Whatever tool we adopted needed also to help us with our other strategic initiatives, too."
With an omnichannel strategy and social media in mind, Chatting chose employee advocacy as a means to increase employee-generated ROI for their organization. Learnerbly employees were already on board with social media and were bought into the idea of employee advocacy even without a formal platform in place.
"The culture itself at Learnerbly lends itself well to employee advocacy. We love our brand and recognize what we're building can have a huge impact on the lives of others" says Chatting. "When you have a strong company culture around trying new things to see what works, it makes adoption much easier."
Within the first three months, Chatting maxed out its 25-member plan and consistently received praise from her fellow participants.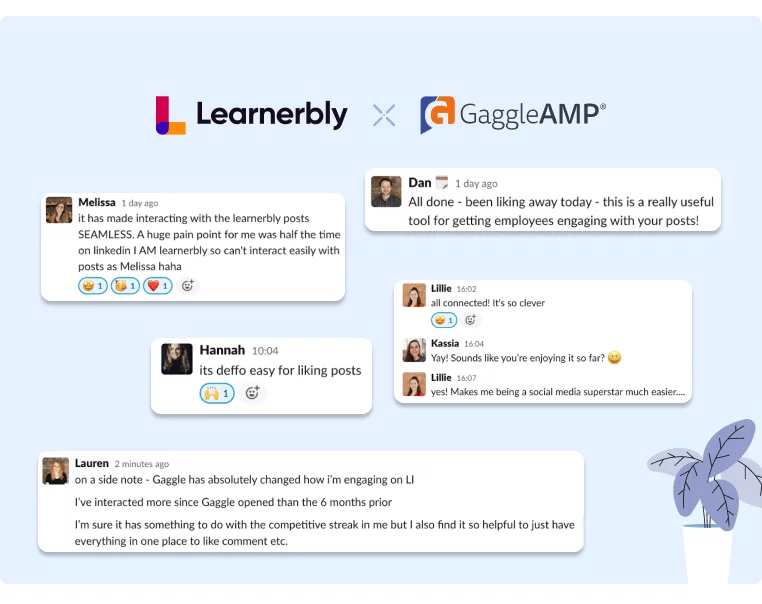 "GaggleAMP made it easy for me to share with my teammates the conversations they should be participating in and people they needed to follow and interact with. This helped take our brand awareness to the next level with a byproduct of supporting our sales enablement efforts, increasing conversions, and generating new leads, all residual benefits to our brand awareness goals, " states Chatting.
Using GaggleAMP Boosted Our Brand Awareness
A common misconception is that you need to be a social media influencer to see big results and nothing can be further from the truth. Learnerbly approached their employee advocacy program with just 25 people and a growth OKR of boosting brand awareness — they crushed it.
Using the power of their people, Learnerbly delivered the following results within one quarter with a mix of participants spanning all areas of their company:
1.4% Increase in link clicks

4.7% Increase in interactions

Increased LinkedIn engagement rate from 162% to 275%
What does this translate to at scale?
Over 500 clicks on content in the same quarter

A reach over 5.5M (and growing)

Over 1K social interactions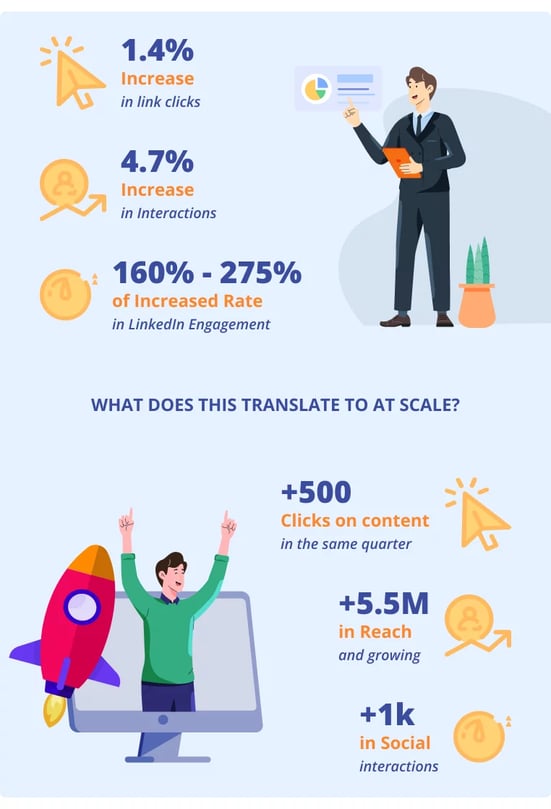 With the focus on their employee advocacy efforts, Learnerbly also experienced the most engaged audience as compared to their competitors during the same period. "That's a big win when you're up against much bigger companies than our own," says Chatting.
Key Learnings From Launching an Employee Advocacy Program
Like anything new, there is a learning curve.
"I came into employee advocacy with big plans to have our go-to-market and employee advocacy efforts in sync," says Chatting. "But, we had to pivot a bit. While our long-term goal is to wrap employee advocacy into multiple efforts, we needed to take a step back before we went off and running. Taking it slow helped so much more with adoption. Now we're able to ramp up."
A few key learnings from the Learnerbly launch helped Chatting gain long-term buy-in from her peers and executive team.
Start With One Channel and Choose the Easy Lift
Learnerbly is a performance enablement platform that targets other businesses. Thus, they focused their efforts on LinkedIn, where their buyers were already prevalent.
"We focused our early engagements with a LinkedIn Like activity through GaggleAMP," mentioned Chatting. "It's an easy one-click activity to get our people using GaggleAMP with really no time spent completing the activity."
Dean Agen, Customer Implementation Manager at GaggleAMP echoes this sentiment.
"I usually recommend a one-click engagement activity to get people used to using the product before unleashing things like comments and reshares on the network. This helps build confidence with Members while surfacing greater engagement."
Understand the Outcome Your Activities Achieve
"Don't get caught up on clicks" is sage advice Chatting shares with her executive team. "A lot of [our efforts] depend on the goal we're trying to achieve."
Learnerbly is aiming to increase brand awareness and that means not all of Chatting's activities are rooted in traffic back to the website. "Sure it's a nice side benefit but I've been very direct in explaining what contributions the activities served in GaggleAMP do and do not do" shared Chatting.
Less than 5% of the nearly 600 activities created to date have a clickable in the post. "We're focused on brand awareness which means starting with boosting reach. We've created activities that are largely focused on getting our message across to as many people as possible rather than clicks to the website" stated Chatting. "Now, if my goal was lead generation, I would likely have a different approach focused on website traffic to book meetings as an outcome."
Simply put, you need to own the outcome and understand how the activities created change the metrics you should be focused on.
Get Creative to Extend the Natural Life of a Post
All posts on social media have a natural organic shelf life. Sometimes the shelf life is short-lived, and other times, it goes somewhat viral. You can extend the shelf life by breathing new energy into the post.
"One of my favorite hacks is to use GaggleAMP to extend the natural shelf life of a post. For example, an executive team member may share a post on their LinkedIn and get decent engagement for a few days before weaning down" says Chatting.
"Once it is on the down-trend, that's a great time for me to add a 'React on LinkedIn' activity for my team to complete through GaggleAMP. This breathes new life into the post, giving greater reach to new audiences, and often results in additional engagement, extending the life of the original post."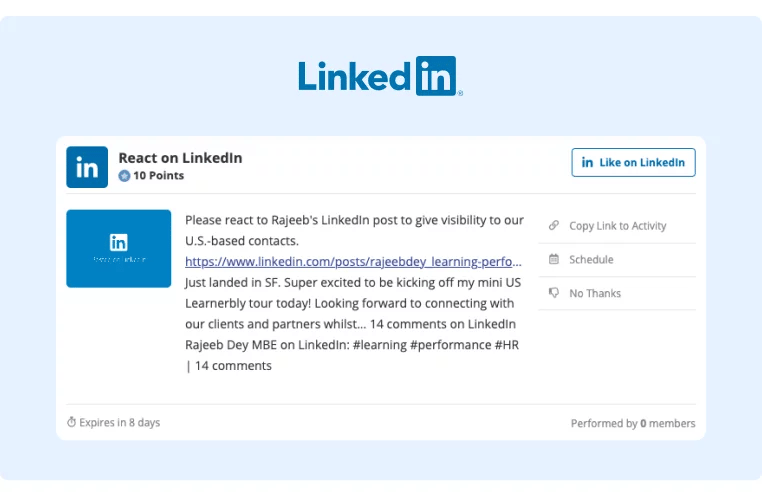 Leveraging Employee Advocacy for Brand Awareness Drives Big Results
Employee earned media value, a calculation that gives weight to each share and engagement on social media, has already surpassed $19,000 in under 6 months, a full $15,500 more than Learnerbly has spent on a full-year subscription.
"Even if we secure one deal through this initiative, we have paid for one full year of 25 seats and have seen a clear ROI," says Chatting in a presentation to her executive team.
While it's sometimes hard to put a value on the benefits of brand awareness, brand awareness often drives traffic to the website which can result in lead generation.
"We've already seen a 54% increase in new user traffic coming from our organic social media efforts and I can attribute that directly to GaggleAMP" boasts Chatting. "In just the first 5 months with GaggleAMP, I see the impact our sales enablement campaigns are having as a direct result of our organic social media strategy and focus. That's all from the activities completed in our employee advocacy efforts with GaggleAMP."
In time, Chatting aims to add additional social media channels to her program and activate more team members to participate.
To learn more about GaggleAMP, please watch the video below or schedule a demo.