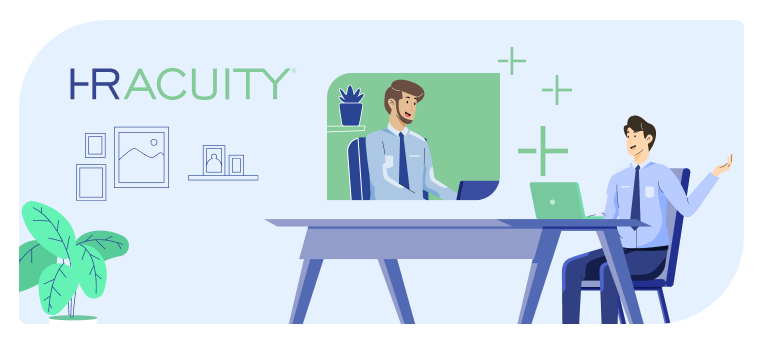 Industry
Human Resources Management Software
Use Case
Building Confidence and Campaign Promotions
Stats
Over 1100 new social interactions
A network reach of 1.96M
Confidence on social media from their employees was priceless
HR Acuity Builds Up Employees by Driving 1.1K+ in Social Interactions
HR Acuity tapped GaggleAMP to help empower employees to share and get more comfortable on social media. With a heavy event-based focus, HR Acuity activated 54 employees to help drive over 1.1k new social interactions, boosting their brand reach to over 1.9M in under 90 days.
HR Acuity, a human resources management software company, was built specifically for employee relations and investigations management. While they understand you can't prevent every employee relations issue, you can control how an organization responds, including their own.
HR Acuity faced a crossroads — they knew they wanted to get employees activated on social media and were asked to share posts over email. This made tracking results nearly impossible. Additionally, some employees lacked the confidence to know what to say or how to say it when sharing on social media. This is when they realized they had outgrown their homegrown solution to employee advocacy and needed to adopt a formal platform with GaggleAMP.
Addressing a Confidence Concern
"For some, knowing what to say or how to say it on social media can be quite daunting," said Lexi Malone, marketing and events specialist at HR Acuity. "There were times we would have people share posts on social without any context and other days people went blank on what to say. That led to them either not sharing at all or missing the mark on context."
Recognizing HR professionals are primarily on LinkedIn and that a strong social media presence would help with the personal branding of all employees, Malone was introduced to GaggleAMP by a coworker.
"We needed something easy for people to use to help gain confidence in what they were sharing on social. GaggleAMP was perfect for us as it had all the features we needed, and even some we didn't know we were missing. The one-click activities made it easy for employees to engage and share while building their confidence" said Malone.
The focus paid off. In the last quarter, their employee advocacy program empowered a Gaggle of 54 Members to complete nearly 1,900 activities resulting in:
Over 1100 new social interactions

A network reach of 1.96M

An 80% active member rate throughout their program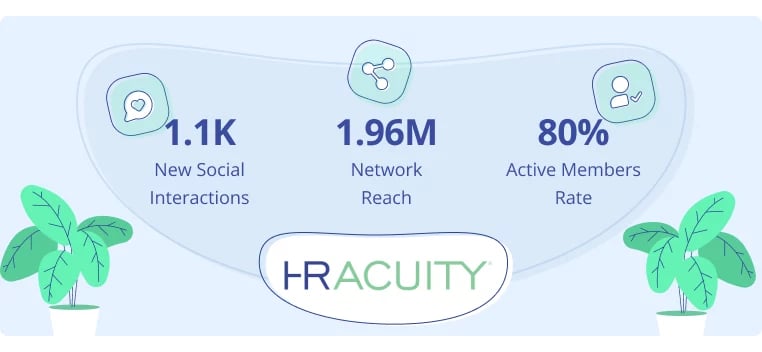 By building the foundation of getting employees comfortable sharing on social media, Malone was empowered to start scaling her employee advocacy efforts to tackle brand awareness and event activation.
Using Employee Advocacy to Boost Brand Awareness
HR Acuity has a goal to be known as the go-to company in the employee relations space. To help them tackle this goal, employee activation on social media was necessary to boost their brand awareness. And, with their employees more confident than ever, they leveraged their HR Acuity company LinkedIn page to communicate the brand message and employees to help elevate the narrative.
They did this by using the GaggleAMP react and reshare activities for LinkedIn. A react activity would allow employees to engage with the company page via a 'like' or another type of reaction, which would in turn expose that activity to their own audiences. Likewise, by resharing the company post, employees like Malone had the opportunity to leave their own commentary on the resharing of the post, which also opened the brand up to the employee audience.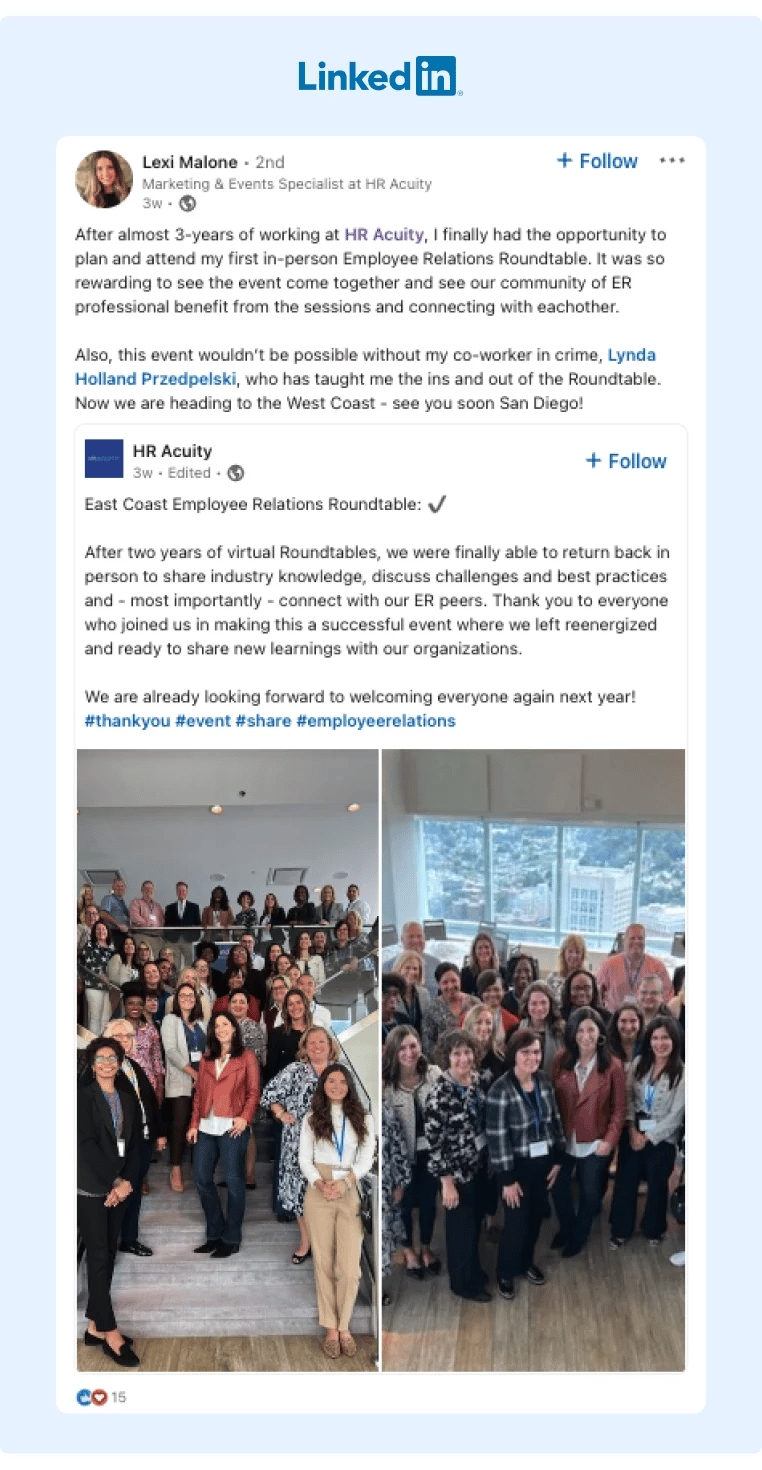 Activities like these were easy for the employees to adopt and resulted in boosting brand awareness of events like their HR Roundtable and in-person trade shows.
Driving Awareness of HR Acuity Events, Reports, and Appearances
Whenever possible, the HR Acuity team ties GaggleAMP into their marketing campaign strategy.

"Our employee relations roundtable event is a big deal for our company" shared Malone. "We host two roundtable events — one east coast, one west coast — in which leaders in our industry come together to discuss pressing issues impacting organizations. This is an important event and the first opportunity since COVID to drive in-person attendance and make the event known to new [and existing] HR professionals in the business."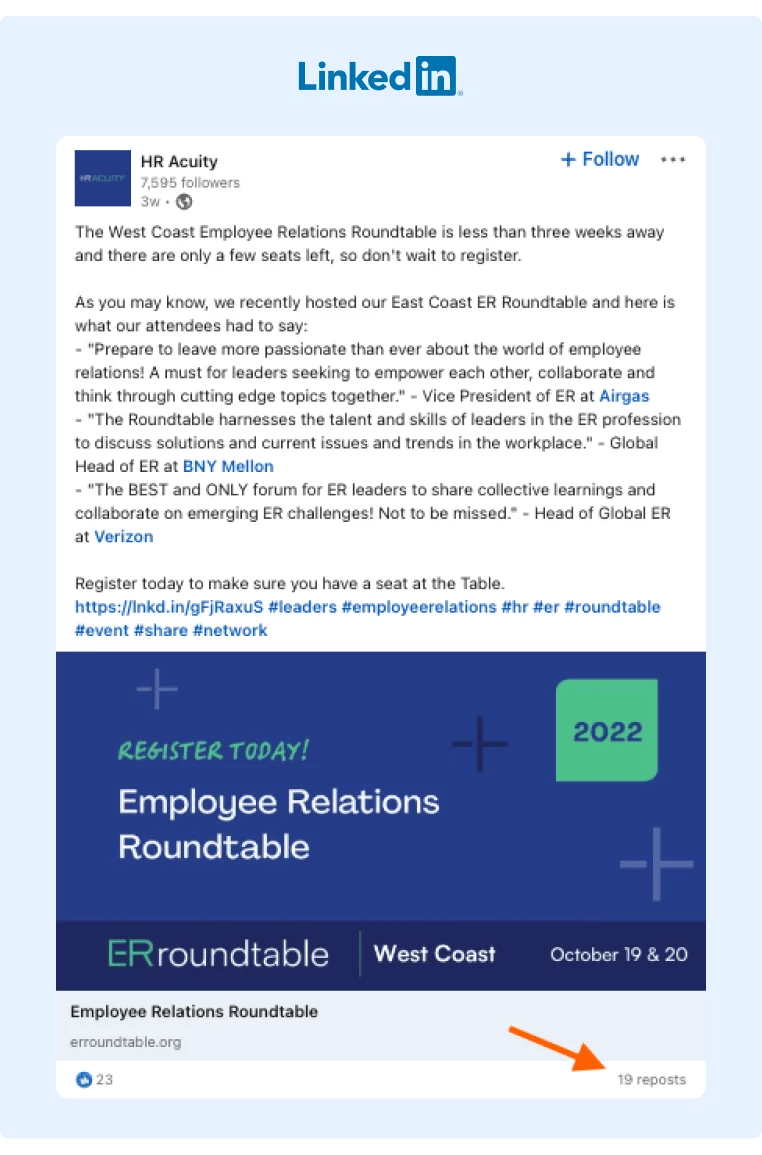 By asking their employees to repost the company post, it:
Brought awareness to the LinkedIn company page, increasing the number of followers to HR Acuity

Gave employees the opportunity to contribute their own commentary while sharing the details with their network

Introduced the round table discussion to those that have not previously attended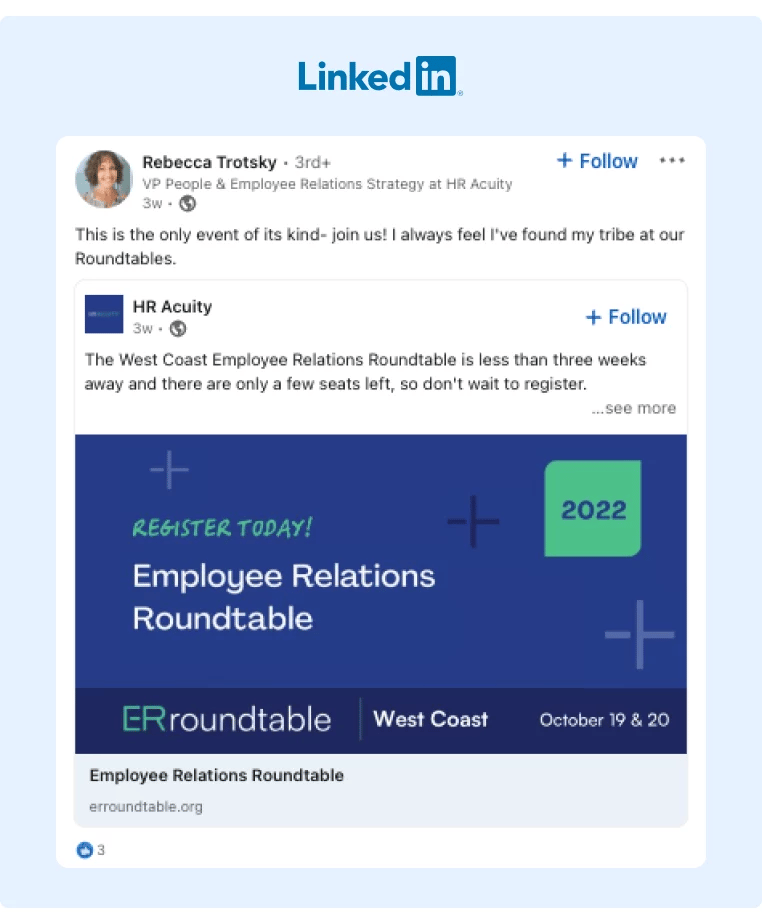 An example of an employee resharing the company post and adding their own commentary.
With the successful promotion of the roundtable events, Malone has already started boosting engagement toward other company initiatives.
"We're attending trade shows and using employee advocacy to drive engagement and awareness of our attendance" shared Malone. "We also have a massive Employee Relations Benchmark Study we're about to start asking for participant responses on. I imagine GaggleAMP will be used to help us with getting new participant responses for the report and also to help with distribution."
In past years, this benchmark study has garnered around 155 participants representing the interests of companies totaling over 5.3M people globally. It's heavily used as the go-to study to identify and define best practices for employee relations management.
Should you be interested in hearing more about HR Acuity and its benchmark study, visit their website.
GaggleAMP can help your teams gain confidence, build market presence, and drive engagements and results to your company programs. Visit us and request a demo to learn more about how we can help your company see results like HR Acuity.