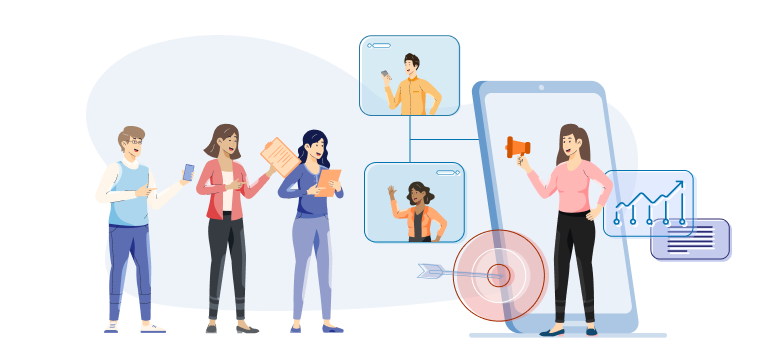 Use Case
Social Amplification for Brand Awareness
Stats
LinkedIn company page impressions grew 18% in the first 30 days
LinkedIn company page followers grew 14.9%
Unique visitors to the company page grew 11.6%
Outpaced all similar-sized programs performance benchmarks
Capital Rx Drives a 395% Increase in Message Reach With GaggleAMP
Capital Rx uses GaggleAMP to drive social awareness, engagement, and increase brand awareness with the help of its employees. With 30 initial pilot Members, Capital Rx has seen 300-400 new brand followers each week. Launching only 8 weeks prior, Capital Rx amassed nearly 600 new clicks on content, almost 4,000 new social interactions, and reached over 1.55M key influencers across their industry.
Capital Rx is a full-service pharmacy benefit manager for employers and a pharmacy benefits administrator servicing health plans. Positioned as one of the fastest-growing health tech companies in America, Capital Rx has a mission to change the way prescriptions are priced and patients are cared for to deliver social change. But to do this, Capital Rx needed to get in front of the right buyers at the right time. This is where GaggleAMP helps.
Michael Passanante, Vice President of Marketing, joined Capital Rx four months prior and quickly noted their social posts drew around 6% of the overall website traffic. He quickly realized there was an opportunity to create a more systematic social media strategy that included making social media posts easy for employees to share. Passanante streamlined the content curation process to become more strategic with their social strategy, thus creating more market noise, engaging their employees, and driving new followers.
Getting Ramped Up With Employee Advocacy
Having used GaggleAMP at two prior organizations, Passanante introduced GaggleAMP to help get Capital Rx employees better involved in their social media amplification efforts.
"The way we presented it [to our employees] was that this is going to be a much easier way for you to see what's out there to share and share it" noted Passanante. "It improved both knowing what was going out onto LinkedIn but also the velocity in which employees were sharing."
Carissa O'Meara, the Capital Rx Coordinator of their Commercial Markets, used this as an opportunity to extend invitations to the program to the most active members of their team.
"I dug into our LinkedIn page to understand who else within our company was already active on LinkedIn and asked them to join the program" shared O'Meara. Passanante added "we used this as an opportunity to also engage our management and senior leadership, too."
Buy-in from the team came quickly among their commercial sales team, a group that was already heavily engaged with and connected to their ideal customers.
"The growth over a short period was amazing and it wasn't a long time before we saw results" stated Passanante. In fact, in just the first month with GaggleAMP, visibility on the LinkedIn company page exploded.
Impressions grew 18% in 30 days

Followers shot up 14.9%

Unique visitors increased by 11.6%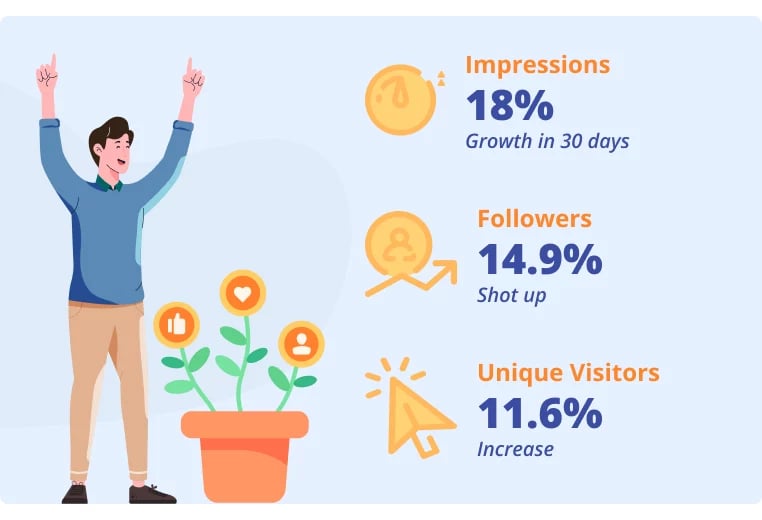 "What was really key was the impressions and engagements we were able to achieve month over month by leveraging the networks of our people," said Passanante.
Compared to GaggleAMP benchmarking of companies with 50 or fewer Member-occupied seats, we concur — Capital Rx crushed. Capital Rx enjoyed :
A 45% increase in activities completed by their employees

A 181% increase in clicks on links shared

A 91% increase in their already strong reach

A whopping 489% increase in social interactions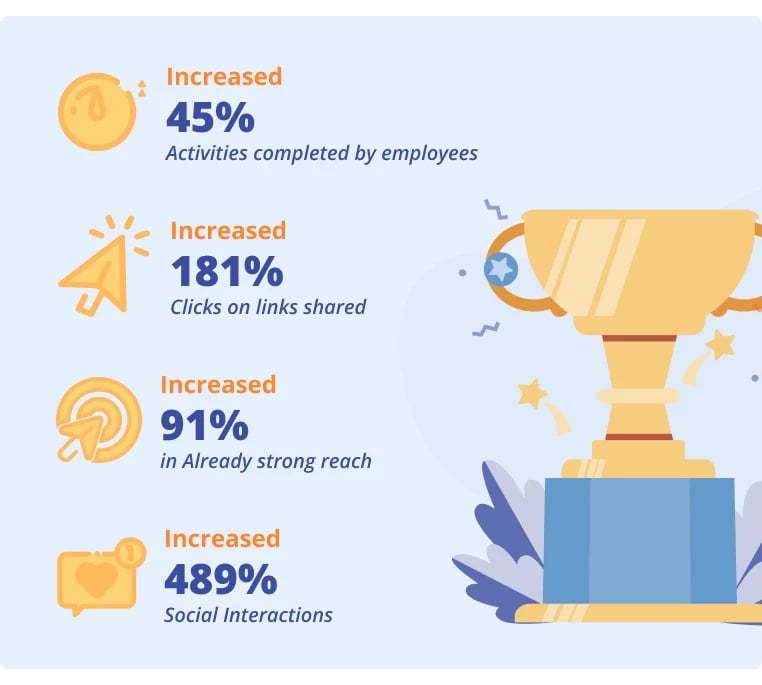 This was all with just 30 active pilot members!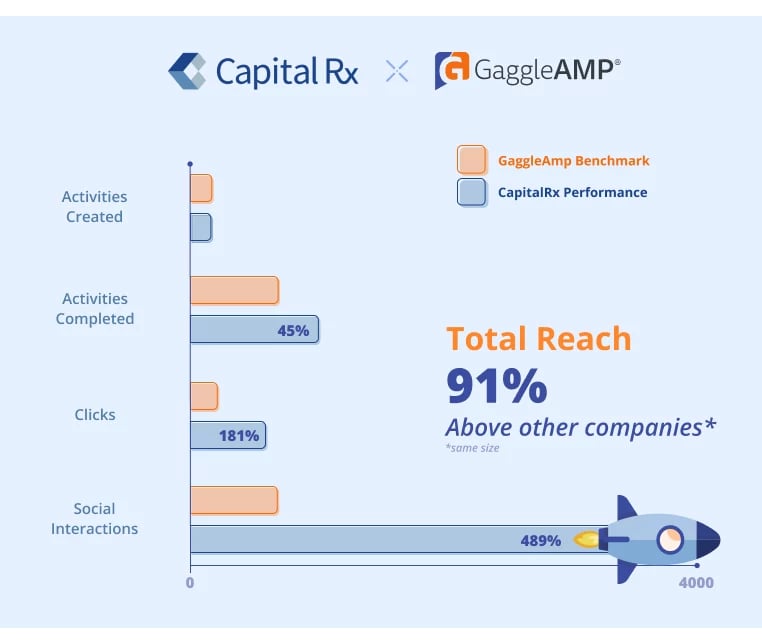 Proving success, the Capital Rx team is now opening their employee advocacy program to all employees.
Using Employee Advocacy to Support the Capital Rx Mission
Capital Rx is on a mission to change the way prescriptions are priced and patients are cared for to create enduring social change in the pharmaceutical pricing market. Often times this means talking to state governments to advocate for change. In October 2022, Josh Golden and Jessin Joseph, Capital Rx executives, testified at the Kentucky State Capital. Their visit was in support of legislation that would bring greater transparency and accountability to the pharmacy benefit management industry.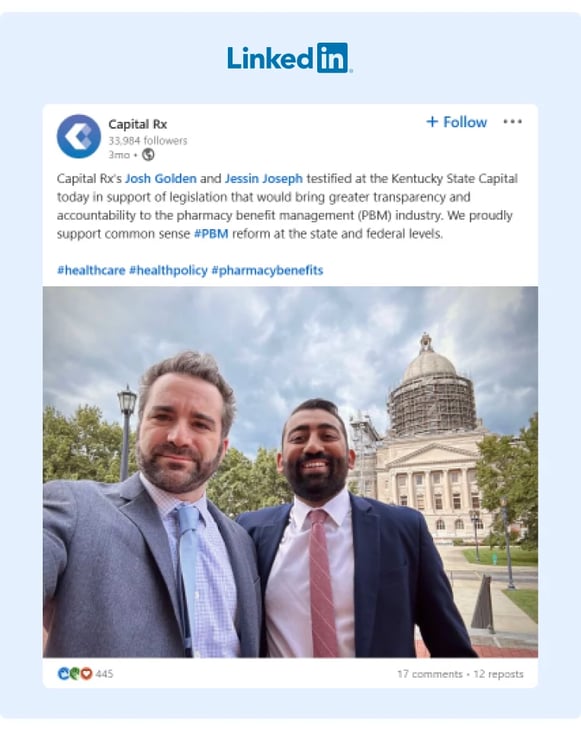 Promoting their good-will and mission, Capital Rx used its company LinkedIn account to document their positioning and GaggleAMP to direct key employees to reshare the company post. This boosted the engagement on the original LinkedIn post, placing it in front of members of their employees' audiences which largely support their efforts. The post helped drive awareness of Capital Rx's stance while garnering engagement and comments from their ideal customers, helping to cement their brand awareness efforts.
Developing a Winning Content Strategy for LinkedIn
The content strategy a company adopts can have a big impact on the success of employee advocacy efforts. For example, the team at Capital Rx likes to promote opportunities for subject matter experts to chime in and generate a more robust conversation.
LinkedIn posts often feature awareness of their Prescription Savings Card or even upcoming events they're attending, alongside branded and third-party content.
"We try to mix it up with our content strategy, promoting the company blog or upcoming webinars and such, but also third-party content and press mentions," says Passanante. "We have a very active event schedule but feel it's important to mix hard and soft content."
Capital Rx also likes to spotlight and promote their people. Relationships matter and you build those with people. To this end, Capital Rx highlights their staff as subject matter experts within their industry.
"Punching Above Our Weight Class"
Capital Rx is a five-year-old company and has only been selling to their market the last three years. They're invigorating the industry and promoting a chance to shake up their market landscape. Their main competitors are Fortune 20 companies.
The more noise Capital Rx brings to the market, the better. "We're growing rapidly. Leveraging social media to amplify our brand message is a critical channel for promoting our message to our key audiences," said Passanante.
You can learn more about Capital Rx and their efforts to introduce transparency in prescription pricing by visiting their website. For more information about starting your own Gaggle and getting your employees active on social media via employee advocacy, request a demo with our team.