Date: 03/16/2016
Duration: 45 mins
72.6% of salespeople using social selling as part of their sales process outperformed their sales peers and exceeded quota 23%. Social selling has the ability to transform your sales results and the best part is that with a little training social selling is easy to get into. Your prospects and future customers are using social media to do their research and make decisions before you even have the chance to contact them. Why not go where they are and engage with them in a more organic way?
Key Takeaways:
How to identify, listen, and engage with your buyers on social media

How to embed social selling in your traditional sales prospecting process

3 strategies to help you close more deals by social selling
Webinar Presenter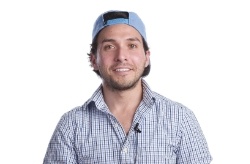 Gabe Villamizar
Head of B2B Marketing – Lucidchart
Connect with Gabe – Twitter | LinkedIn
Gabe Villamizar has five years of related work experience in social selling lead generation, social media marketing and online marketing strategy in the SaaS B2B industry. Gabe has extensive multi-cultural experience with the ability to develop and implement new SaaS social marketing tactics to build strong B2B relationships and generate targeted leads.
Gabe will be part of the Social Selling Panel at AMPLify: The Employee Advocacy Conference on May 12th.