Chances are, your site is like the over 80% of all web sites that use Google Analytics. Whether you know it or not, Google Analytics is a great way to track your social media activity. This post helps you understand how to take advantage of GaggleAMP's built-in Google Analytics support.
By default, when you use GaggleAMP shortened URLs (either gag.gl or your own custom domain you've setup with your Gaggle) in messages, campaign parameters for Google Analytics will automatically be added. These are the same campaign parameters used with Google Adwords and they allow you to track a variety of lead attributes directly in Google Analytics automatically.
You can find more depth information on how these parameters work in the Google Analytic's help site on the "Custom Campaigns" page: http://support.google.com/analytics/bin/answer.py?hl=en&answer=1033863
Since this tracking is setup by default when you create your Gaggle, if you have been sharing links that point back to your website, you'll already have data accumulated in Google Analytics. Follow these steps to view this data in Google Analytics:
1. In the left menu on the Google Analytics main view, find and click on the 'Campaigns' view under Traffic Sources > Sources > Campaigns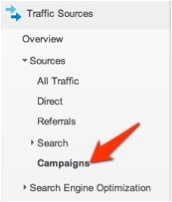 2. You should now see a list of campaigns from GaggleAMP and any other tool that is adding a campaign parameter (utm_campaign) to URLs that link to your site. Campaigns from GaggleAMP will have (GaggleAMP) after the name, e.g. "Blog Posts (GaggleAMP)"
2b. If you see other campaigns in Step #2 and want to ensure you only see traffic from GaggleAMP, then after you make your selection in Step #3, 1. Click the "Advanced" link, 2. Type "GaggleAMP" into the field next to "Containing", and 3. Click "Apply".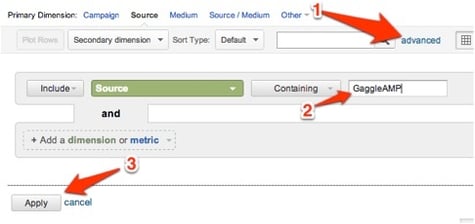 3. From here, you can switch from viewing by Campaign to viewing by Campaign, Source, Medium, or Source / Medium. In the case of GaggleAMP, "Campaign" is the campaign name you set for your messages, "Source" is the Gaggle that the traffic came from and "Medium" is the social network.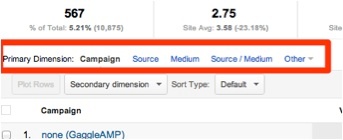 4. No matter which data grouping you selected in Step #3, you will see summary information for each piece: (Pages / Visit, Avg. Visit Duration, % New Visits, Bounce Rate)
5. If you would like to break out the information in Step #4 by individual messages from GaggleAMP (NOT individual social media shares), then you can add the "Ad Content" Secondary Dimension.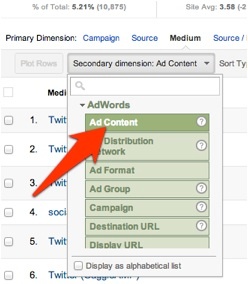 6. Instead of breaking out traffic by individual message like you did in Step #5, you can break it out by which Landing Page the visitors came to after clicking on a social media message shared from GaggleAMP. To do this, select the "Landing Page", Secondary Dimension.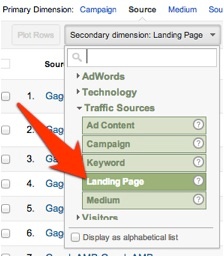 Know that you are familiar with how to view data on the traffic that GaggleAMP is sending to your website, you can bookmark the reports and check back frequently to see your progress over time. The charts and statistics you find are also great for adding to your monthly or quarterly social media report to show everyone else at your company concrete results from your social media activities.