Whether you're a solopreneur, enterprise corporation, or somewhere in between, smart growth is the key to securing a solid future for your business. However, far too often, business owners and managers fail to adequately address and prepare for the various challenges that come along with a growing business.
As
SCORE advises
, "Scalability is about capacity and capability. Does your business have the capacity to grow? Will your business systems, infrastructure, and team be able to accommodate growth?" Before taking on greater workloads, expanding your workforce, or ramping up customer communications, it's important to set yourself up with a strategy set to scale.
Although great businesses are built on great products, services, and ideas, we often have technology to thank for offering simple solutions that allow us to complete the many functions required to run a business. As your business begins to scale, the technologies you decide to use can have an even more beneficial impact than ever before, especially because they can aid the inevitable growing pains that your business is bound to endure.
Here are four of today's technology solutions that can scale alongside your growing business:
Cloud-Based Business Apps
Cloud-based technologies have become the new normal as today's businesses awaken to the many benefits offered by the cloud.
From increasing data security to accommodating mobile access, and even cutting costs, the advantages of the cloud can satisfy organizations of all sizes. Perhaps one of its most valuable characteristics is its scalability; it allows your business to easily upscale or downscale your IT requirements as and when needed. Some cloud providers operate on a "pay-as-you-use" principle, which means the offering can scale as your company does.
Modern cloud suites offer a myriad of business applications, which organizations can use to enhance functionality or add additional services on demand. These applications are tailored to meet the specific needs of your business and often include solutions for enterprise resource planning (ERP), human capital management (HCM), supply chain management (SCM), and even marketing. As the needs of your business expand, your workload grows, or your offerings differentiate, you can opt to add new applications to your cloud suite that simplify your business functions.
However, be sure to select a cloud suite with applications that are truly connected and integrated, as some solutions might not operate as a cohesive unit. In some cases, certain legacy applications may be offered as a bundle of acquired solutions at different stages of cloud readiness, and may be difficult to upgrade when you need it. Applications that are fully built to run on the cloud can help your business stay current, as your cloud provider will consistently upgrade your applications with the latest features, capabilities, and best practices.
Chatbots
When managing increased demand for products and services, many small businesses fail to maintain a superior customer service program.
For example, if 10 customer service representatives can manage a customer-base of 1,000, what happens when your business grows and reaches 10,000 customers? Rapidly hiring 1,000 new customer service reps isn't the best call. Aside from the financial expenses, it's likely you'd also have to train all of these new employees in a short period of time.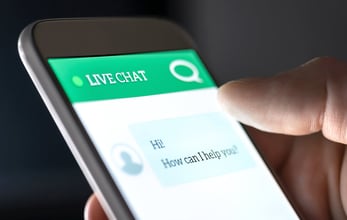 This is where
chatbots, or AI-powered virtual assistants
, can step in to
take over some of your customer service responsibilities. A major concern for a growing business is its ability to handle multiple customer service requests, without a parallel growth in its support facilities. Chatbots can handle the increase in requests; they can simultaneously interact and chat with thousands of people, without delays.
Chatbots present an opportunity to increase your customer response rates while minimizing the time and money required to expand your workforce.
Employee Engagement Platforms
As your workforce grows larger, it's important to ensure you're maintaining high levels of employee engagement.
Employee engagement describes people who are committed to their work as well as the goals and values of their company. To put it another way, engaged employees show up and are involved, not only because they're paid to be, but because they're invested, emotionally or otherwise.
As your business scales, so should your company culture. This ensures that at all stages of growth, your company remains as engaged and connected as it did when you first started. As Senior HR Manager at activewear brand Outdoor Voices, Laxmi Shetty, attests, "As we expanded to seven retail locations across four states and a corporate office, we aspire to practice what we preach throughout our entire organization."
Focusing on creating engaged employees not only maintains your company culture as it grows, but it has also been shown to be beneficial for business performance. One Gallup study drew the connection between consistently low engagement and team performance—they concluded that engaged teams have 21% greater profitability, 17% higher productivity, and 10% higher customer ratings than disengaged teams.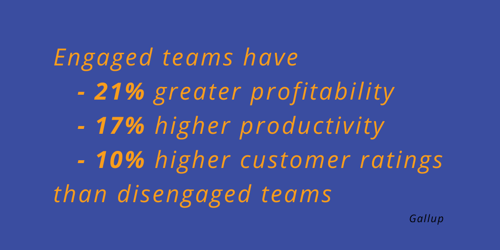 With your workforce growing more rapidly than ever before, how can you ensure that both new hires and veteran employees are equally engaged? Create an employee advocacy program for your organization, which promotes your brand and initiatives through people who work for your organization in an authentic and trusted way, typically on social media or other digital channels.
When people get involved in employee advocacy, they tend to get a better understanding of their company's initiatives, its priorities, and how they contribute to its overall mission. When that happens, people feel more connected to their brand and become more engaged to help the company.
Business Process Automation
According to a recent Small and Medium Business Trends report, small businesses that embrace automation are thriving, while those who don't are struggling. Of the 500 businesses surveyed, those who were automating their processes were 1.6-times more likely to be growing than those who weren't.
When you automate manual processes, your staff can focus on the work that can't be automated, such as developing strategies to drive new business or solving team-oriented, complex problems. Automation helps businesses digitize their operations and streamline tasks that were once completed manually, like sending marketing emails or calculating and paying employees' wages.
One way in which businesses have begun to utilize automation is for tax regulation, especially for businesses that operate e-commerce stores. State and local governments have intensified efforts to collect taxes on internet purchases, which can often be challenging for businesses to manage.
As Greg Chapman from tax compliance company Avalara states, "We continue to see the complexity for businesses grow as local governments move to hyper-regulate and collect sales tax on Internet purchases," which forces many businesses to spend hours filling out returns and devoting more staff to the tax auditing process. Instead, using automation helps businesses with taxes, which was previously a tedious process for employees, while also ensuring they comply with increasingly complex regulations.
If you don't set up your technology to be scalable, you'll run into big problems down the road. With a bit of strategic planning, you can be sure that your technology is ready to grow alongside your business.