Your employees are your biggest brand advocates, so how do you get them engaged enough to share your messaging?

Employee advocacy is enabling people in your organization to easily get involved in your marketing initiatives. With a successful employee advocacy program, you can transform your organization.

Some companies want to expand their social media marketing efforts through reach and engagement. Others look to boost their public relations efforts by connecting and engaging with influencers and journalists. All companies with employee advocacy programs want to get their employees more active on social media to promote initiatives.

Employee advocacy can benefit human resources, sales, and marketing departments, but it also builds your employees' personal brands. Let's dive into how three different companies with different agendas used employee advocacy with GaggleAMP to grow their public relations, marketing, and social media initiatives.

Carbon Black: Leveraging Employee Advocacy to Boost Public Relations Initiatives

When used properly, a successful employee advocacy program wields power in terms of getting attention and connecting with people.

Carbon Black, a large cybersecurity company based in Waltham, MA, has many existing relationships with media outlets. For example, CNN occasionally interviews Carbon Black's security experts for their insight on cybersecurity stories.
Whenever a reporter posts a story on social media featuring an interview with a Carbon Black executive, the security company uses GaggleAMP to amplify the message. Employees across the organization engage with likes, shares, retweets, and comments on the posts.
The idea is that reporters will notice the boost in engagement and keep coming back for more interviews with Carbon Black executives. And they definitely notice. An on-air reporter at CNN told Carbon Black executives that his following and engagement numbers get a huge boost every time they conduct an interview.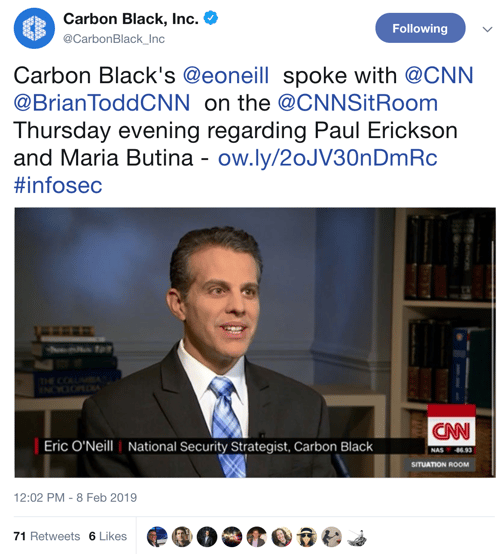 SmartBug: Amplifying Social Media Marketing Metrics And Boosting Sales
Through an employee advocacy program, employees learn what to promote on social media and how to promote it, getting them more comfortable with social media in general.
SmartBug, an inbound marketing agency, tried to run its employee advocacy program through email at first but didn't see the results it wanted. It was difficult for the marketing team to consistently set up, and employees would often ignore emails.
But when SmartBug implemented GaggleAMP, employee advocacy quickly became part of the company's culture. The marketing team trained new hires on GaggleAMP and acknowledged those for contributing. Soon enough, 91% of the employees were active in the company's Gaggle, and SmartBug saw a 28% month-over-month increase in website traffic from social media. This level of amplification led to a 31% increase in leads which the sales department surely enjoyed.
SendGrid: Activating Their Employees to Become Social Ambassadors
Any company rolling out an employee advocacy program wants employees to embrace social media to help promote the brand. But how do you get employees motivated to volunteer? And how do you keep them motivated over the long haul?
SendGrid, an email marketing software company in Denver, gives personalized training by splitting employees up by department and helping them share and promote posts relevant to them. They hold one-on-one training sessions for those who need it and 10-15 minute training sessions for new employees.
To keep employees involved in employee advocacy, they use the gamification capabilities in GaggleAMP. SendGrid assigns points to each activity they request employees to carry out and use a scoreboard to see who has the most points.
The marketing team occasionally shares the scoreboard to those in the program and awards prizes to those who reach specific point totals. Prizes usually consist of company branded merchandise such as backpacks and shirts. This not only helps boost the brand's image among the network but also shows appreciation to the employees, keeping morale high and employees engaged.
The benefits of employee advocacy are huge, and companies in any industry can take advantage of them. Whether it's for PR, Sales, Marketing or a different department, employee advocacy has its perks.