Maximizing workplace productivity leads to many major benefits, including higher profitability, but it relies on optimizing efficiency and catering to employees.
It's incredibly important for a small business to take care of its employees. When your employees are happy, it boosts employee engagement, and that is exactly what a growing business needs to compete with larger organizations.
According to Engage For Success, engaged employees put in 57% more effort at work than disengaged employees and are 87% less likely to leave their jobs.
There are many factors to workplace productivity and having an engaged workforce, including company culture and having the right internal communication tools. Here are some tips to get the most out of your staff, and make sure their productivity is at an all-time high.
1. Establish A Healthy Workplace Culture
A big reason companies can't maximize workplace productivity is they are resistant to change. It's about making adjustments.
Take into consideration how your business operates, and be open to the possibility of changing the way you work. Keep in mind it is equally important to implement the best processes for prioritizing tasks and reaching goals, especially in the case of small businesses.
You need to find ways of structuring the day for employees to achieve their daily targets, whether it be making better use of meetings, explaining what projects should be prioritized for short and long-term goals, and so forth.
You should encourage employees, and make sure they have a clear understanding of how to prioritize their tasks to achieve their goals.
They should see the bigger picture of the entire company. Make sure that they are aware of the organization's overall mission and values. This lets employees know that their work is meaningful and it matters at a higher level. They'll gain a better understanding of their part in reaching the company's goal, which will make them feel valued.
2. Be Active on Social Media
Getting your employees active on social media is a huge benefit to your organization.
Your employees are more trustworthy, personable, and authentic than your brand. This means that if your employees post the same message as your brand handle or a digital ad, people will take the message coming from your employees more seriously, and with less skepticism.
When your employees are more active on social media, it builds up their personal brand and extends the reach of your brand's messaging. It also helps employees do their jobs better. For example, salespeople who are active on social media and practice social selling are much more likely to hit their goals, and recruiters looking for applicants on social media are more likely to reel in top talent.
3. Get The Right Productivity Tools
To optimize employee productivity you need to make sure your employees have the right tools to do their best work.
With so many of us working from home, we need the right collaboration tools to work with colleagues and communicate. In addition to workplace productivity tools to work remotely, you need security platforms to protect your cloud applications and information.
Not having the right security software can prevent you from using the right productivity tools, which will hinder your performance. For example, a project management platform such as Monday.com can help organize your projects and keep your remote workforce in the loop on what people are working on.
Messaging platforms like Slack will help people communicate, share files, and collaborate on projects, while using Word to PDF converters can make sharing files easier and more secure for you.
4. Encourage Internal Communication
One of the best ways to ensure employee engagement and workplace productivity is practicing strong internal communication.
According to Hubstaff, nearly 25% of employees say a lack of team communication is their biggest barrier to peak productivity.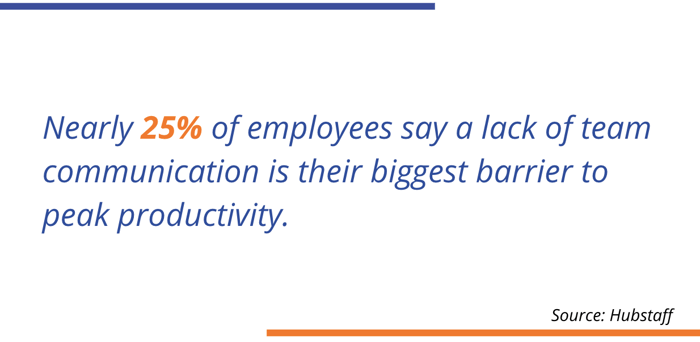 You want to motivate, encourage, and reward the employees. Acknowledge them when they are doing a great job, and provide constructive criticism when they need it.
Offer incentives for a job well done. Of course, you can offer monetary awards, but acknowledging them in front of colleagues can go a long way too. You may also provide free holidays or a free coffee takeout for performing above expectations, for example. There are many directions you could go.
Not only will this motivate your employees who you're acknowledging to keep doing their best work, but It will motivate other employees to work harder to achieve rewards.
Communication between workers is also an essential element in improving work productivity. If there is good energy and no pressure, the workers will feel less tense and as a result will foster better relationships among them. You want to build a collaborative workplace culture where employees feel comfortable asking for help from each other rather than feeling siloed. Building a team-oriented environment will have a huge impact.
Making small changes in your habits can drastically improve workplace productivity and office efficiency. It will also allow you to get higher quality work done within a short period and help in decreasing the time spent on performing unnecessary tasks.