Hey there social media manager, I see you over there trying to figure out what happens next. You've never managed social media during a crisis. Do you go dark? Do you continue to post but pivot every campaign you had crafted for the perfect positioning? It's tough right now but if there is anything we have learned, we're all in this together.
In an era of social distancing everything from consumption of social media to creating it has changed, and fast. So how do you distance your social media campaigns? Here's a few thoughts on how to manage your social media during a crisis.
Posting on Social Media During a Crisis
The Covid-19 epidemic is pretty different from typical crisis communications. Traditionally speaking, crisis communications might affect a single company or a single vertical, and only occasionally affects a nation or more. It would be remiss to say that no one crisis has had a global impact the way this epidemic has, at least since the inception of social media. That leads us into unchartered territory with few options.
Go Dark on Social Media
Social media during a crisis can be tricky, especially when your company or vertical is in the thick of it. In some situations, it makes sense to make a statement and go dark on social media until the crisis subsidies or you can collect your thoughts.
Among the Covid-19 epidemic, the travel industry has been hit especially hard, with airlines, hotels, and cruise lines suffering catastrophic losses. With record cancellations of travel worldwide, it's hard to make a case for travel during an epidemic (and in some cases, travel is no longer an option).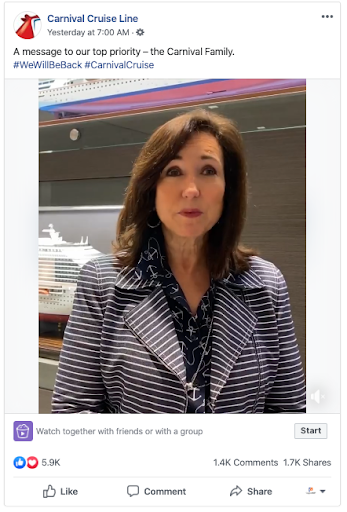 Carnival Cruise Line recognizes this isn't the time to show all the fun you can have on a cruise ship. In fact, with stories like the Covid-19 breakout on the Princess Cruises Diamond Princess, cruising is the furthest thing from someone's mind.
In a recorded message from Christine Duffy, President of Carnival Cruise Line, she provides a simple statement to keep travelers updated on customer support, but has stepped away from the carefree, fun-loving sentiment you'd usually see.
Go Dark, but Pivot
Each day companies are pivoting their business model to support the needs of those on the front line or to change their production for present every day needs. This does not happen often.
Craft beer brewer Dogfish Head has a very different social media presence than it did not but two weeks ago. Rather than converting their business to a carry-out model during trying times, they converted their entire brewery to the production of hand sanitizer.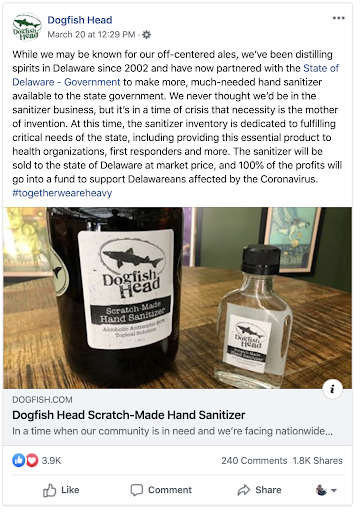 Notably missing is the sentiment around grabbing growlers before the March 24th state of Delaware mandate went into effect to stay at home.
Tap Into Social for Support
To support social distancing, bars and restaurants (among many other things) are shut down nationwide. Suddenly those that rely on a steady stream of socialization have seen their incomes come to a screeching halt.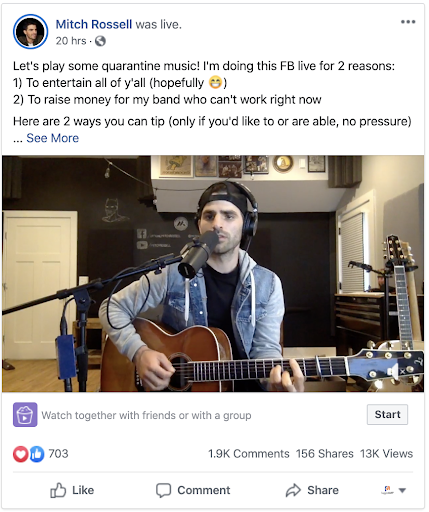 To help do their part, there's a rise of folks like country music singer Mitch Rossell tapping into Facebook Live to provide acoustic renditions of fan favorites. While keeping us entertained from afar, he's also using this as an opportunity to collect funds for musicians in need to help keep them afloat.
Recognizing that music plays a big part in soothing the soul during a stressful time, many musicians take to social media during a crisis to both connect with fans and others. In fact, the "We're all in this together' acoustic concert on Facebook Live with Garth Brooks and Tricia Yearwood managed to crash Facebook Live when over 3.4 millions viewers tuned in.
Provide Opportunities for Education
With kids out of school throughout the world, parents are rapidly finding educational opportunities to keep their children learning and well-attended while out of school. But, what about adult education? For the first time, many adults are working remotely and are being introduced to technology they may not have ever had experience with.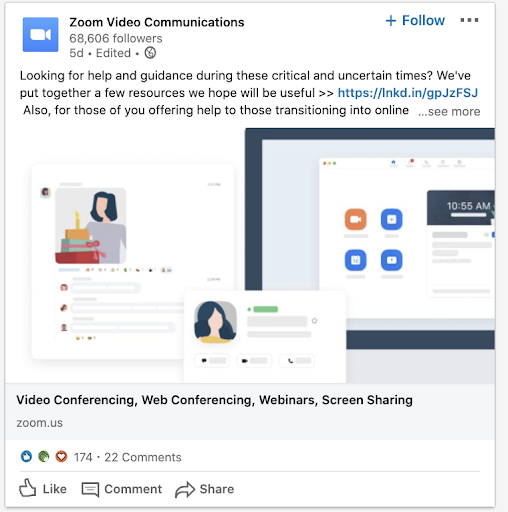 For remote workers, Zoom Video Communications has been a lifeline for communication. For those suddenly thrust into remote work, it's also become an area some need to learn. Zoom helps bridge the gap with their guidance around video chat and screen sharing, all things the workforce may not have had to do just a few weeks ago.
Reconsider Your Intent and Answer 'Is This Right?'
Let's preface this with saying it's not wrong to advertise a giveaway of a trip...under normal circumstances. But, in a time where the travel industry is coming to a halt and people are being asked to not leave their home, a travel offer is a hard ask. In all fairness, the cosmetics provider did change their offer a few days later to a vacation "after things have settled down", but it's still a pretty awkward time to offer a tropical vacation or #springbreakfun when people are being asked to stay at home.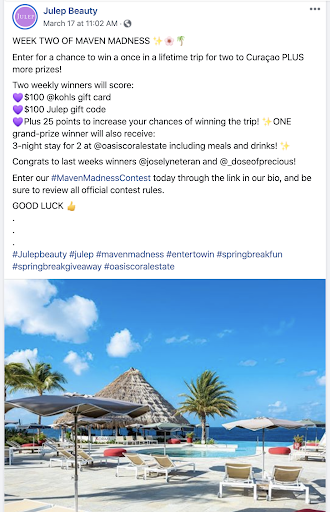 Social Distancing Your Tone and Sentiment
To one end, you're caught up in the day-to-day "I cannot believe this is happening" and to the other end, you need to react quickly as your brand tone may need to change. Running social media during a crisis is a tough role to run, and can be both a blessing and a curse. You've no doubt heard from anyone and everyone about their plan during Covid-19, but where do you begin with your social voice? Start somewhere, like your tone and voice.
Be Aware of Your Tone of Voice
Even the most reserved of brands need to think about how their posts are going to resonate with their audience. A flippant, fun-loving brand tone may simply not resonate well with the audience at this time.
Right now is simply not the best time to be snarky or sarcastic, and humor may not be well received. In a time of crisis, it's best to lead with empathy and provide assistance where you can.
Not sure what that looks like or how to scale it quickly? Venngage has created a series of templates for crisis communications for leaders and managers. These no-cost templates help you create everything from internal communications and emergency response plans, to external communications and checklists. You can then use these templates to check your brand tone and messaging before pushing posts on social media. It keeps everyone clear on your companies stance and your tone and messaging consistent.
Don't Forget Your Images
Tone matters, but so do the images you use to support that tone on social media during a crisis. Using images of large groups or social gatherings at a time of social distancing can conjure up feelings or restlessness that the brand is tone deaf.
Likewise, audiences are looking for relatable scenarios to their own. It's important to check not only your social media campaigns but any running paid campaigns, like the one below, as they are likely falling on deaf ears.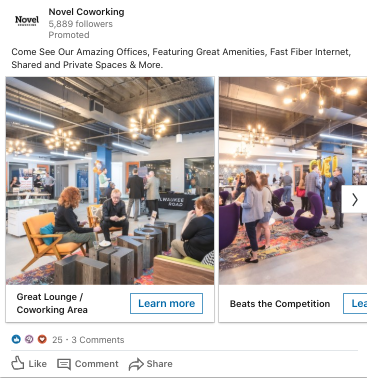 Anticipate Your Audience's Behavior
Self-isolating at home brings a number of changes to daily habits, including increased screen time and a diminished amount of travel. Leading by example, Disney+ realized more kids at home means more screen time. Rather than waiting to release their blockbuster favorite Frozen 2, Disney took this captive audience and released it early, delighting both children and their parents.
Likewise, anticipating an increase in demand for travel refunds, major airline carriers were quick to waive change and cancellation fees for some carriers, and others issued vouchers for future travel.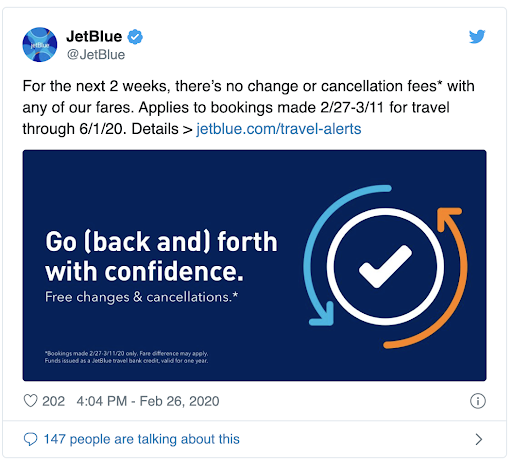 Keep Up To Date on What's Happening
Things are changing fast, and what may have been a good post yesterday may not be a good post today. Everything is under scrutiny - social media, blog posts, and even your traditional media channels.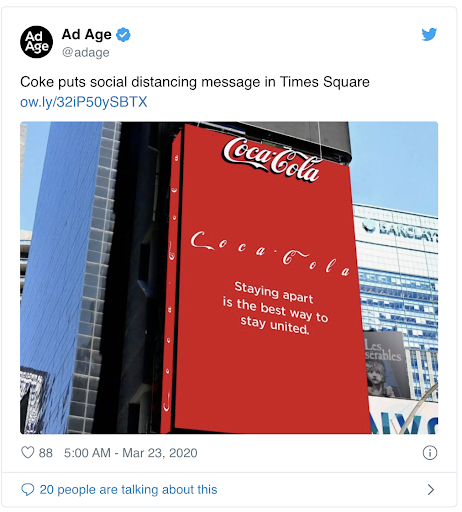 Case in point, Times Square is empty but that didn't stop the Coca-Cola brand from advertising. Why? Their sentiment is spot on. This ad will only be seen in one location - Times Square - and Coca-Cola is intentionally disjointed. Each letter stands on its own rather than being connected in their traditional script font. And with New York City as an epicenter of Covid-19, it reinforces the desire to keep the community apart for the greater good.
How to Manage Your Social Media When Out of the Office
For many social media managers, it's business as normal when it comes to creating social media messaging from a remote location. It's one of the many beauties of social media - it can be done from anywhere with a strong internet connection. What may change though is your access to tools you may use in your social campaigns.
No Video Recording Equipment
Here's the thing, it's okay to get really raw right now with video capabilities while social distancing. In fact, even celebrities with access to production teams are basically 'going live' to record their interviews.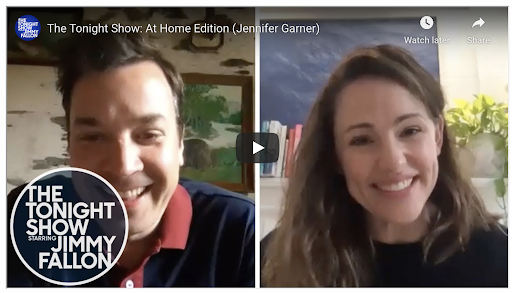 Late night TV show host Jimmy Fallon recently interviewed Jennifer Gartner for his "At Home Edition" segment in traditional live-stream format. It's relatable - so much so that his daughter interrupted his interview with a question - and we all get it, too.
Be real on your social media during a crisis. We're not saying don't be aware of your surroundings or audio quality but your audience will be far more forgiving and will appreciate the transparency, too.
Adjust Your Scheduling Time
Review and adjust not only how far in advance you schedule posts, but also when you post content. People are working wildly different hours now that they are working remote, especially for parents that are also keeping kids busy. Plus work time bleeds into downtime when there is little else to do, so you might actually find your target audience is online later into the day than they traditionally may be.
In a recent study from the Global Web Index, across the 13 world markets surveyed, almost 45% of people are devoting more time to social media than before the worldwide epidemic. While some of this social media usage will likely temper down when citizens are able to leave their homes again, some new patterns of usage may emerge long-term.
It's important to not only adjust your scheduling times but pay attention to who is on social media and when. With entire countries under universal lock-downs, social media usage is skyrocketing.
Take Your Message Further With Employee Advocacy
It's possible to do less with more by tapping into your employee advocacy platform to help support your messaging. Your employees are already engaged and are looking to stay present in the conversation in their respective communities. Instead of creating just one message for your brand channel, take that message and craft it a little differently for each of your teams and schedule it to your employee advocacy platform.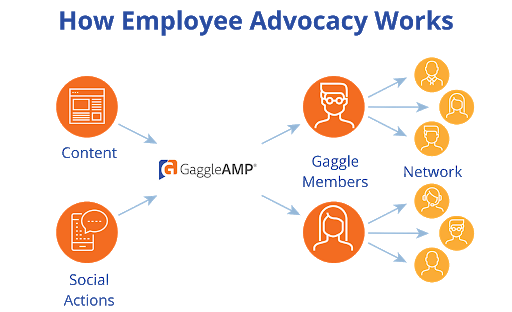 This gives your messaging a bit more mileage while still being relevant and in the moment for the employee. Plus, using an employee advocacy solution helps cut through all the noise and generate conversations between your employees and those in their network. In a time where employees are remote, many for the first time in their careers, employee advocacy helps to protect the human connection while boosting organic social media reach and engagement.
Social Distancing Your Social Media Won't Last Forever
While it's important to acknowledge and respect the "new normal," it is just as important to recognize when the new normal is normal. In time, at home orders will be released, businesses will reopen, and kids will head back to school. When that all happens, take the good things you have learned about your audience and move forward.
When doing social media during a crisis, lessons will be learned; some old habits will be retired in favor of new ones. Depending on who you market to, you might see buying patterns forever changed and social media more influential than ever. Document every facet, make your tweaks and adjustments, and value the lessons you learned.