Too often, marketers look at social media as a reactive medium. In other words, they troll the social networks looking for conversations to engage in. What these people don't realize is that they could be creating their own conversations and interactions in a planned and structured way. Consider scheduling a day, week or even month's worth of messages that can be distributed by you and your stakeholders automatically.
Using outbound social media messages can create conversations that deliver social engagement, web traffic, leads, sales and much more. The key is to have the group of people that are ready to share your messages, be in a position to know what and when you want messages shared.
Using GaggleAMP, Gaggle Managers have numerous ways to schedule messages:
Manually posting a single message with a predetermined time to be shared.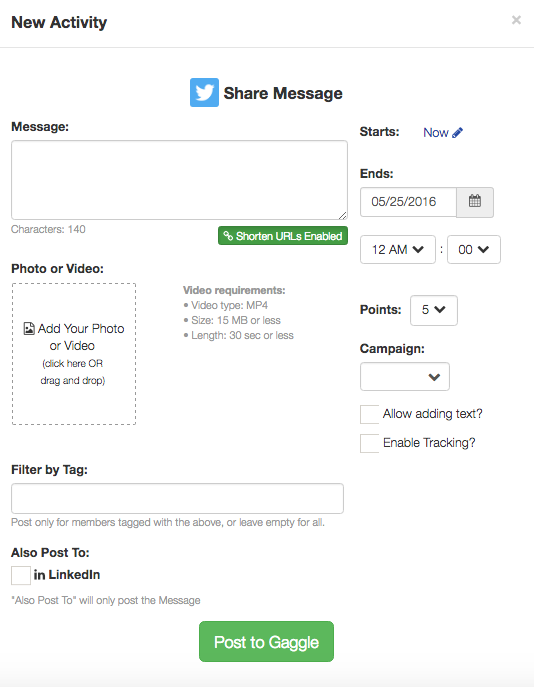 Gaggle Managers can post single messages which allow them to define the time in which the message enters the Gaggle and is removed from the Gaggle. While any message is in a Gaggle, it can be shared by Gaggle Members to their social media accounts.
Bulk adding of messages with pre-determined sharing times.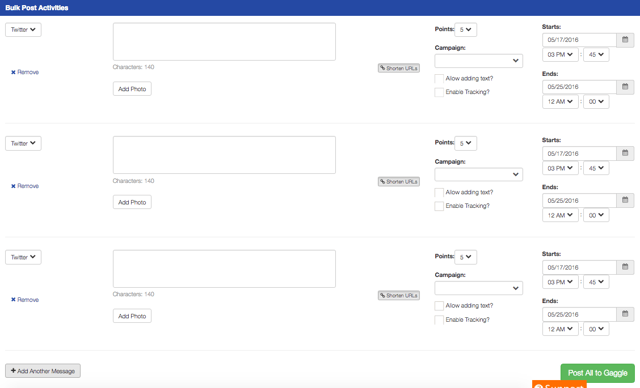 Adding messages in bulk can be accomplished via manual posting or via a bulk message uploader which can be accessed via the "Upload Messages via Spreadsheet" link show above.
Leveraging any of these methods is an efficient way to manage social media message distribution to stakeholders and brand advocates who have joined your Gaggle.
Remember that when messages are "Posted to the Gaggle", your stakeholders and advocates that have joined the Gaggle are proactively notified that there are new messages to be shared. For those Gaggle Members that have selected "Auto-Share", their messages will be shared automatically throughout the day. This expands the life and impact of the message.
To learn more information about how different industries can leverage GaggleAMP, click the link below.