The 'AMP Up Your Digital Marketing' Podcast Presents:
Using Social Media for Events with Ramsey Ksar
Ramsey Ksar is the CEO & Chief Product Officer for Blyve, a Live Q&A Platform for today's leading brands and media companies that brings people closer to the things they love. He recently joined AMP UP Your Social Media's host Glenn Gaudet to discuss how social media can be a powerful tool for events.
Don't only think about engagement, think about lead generation!
Ramsey shares a couple of ways that you can use social media to help elevate engagement during an event:
During live events, offer your audience the opportunity to join in on debates. Both your social media audience and your live audience can join in to ask questions to debate candidates and your coordinator can filter them for good ones.
Reserve dedicated times for live interactions with event participants, athletes, etc. For example, after a speaker comes off stage, set them down at a computer for 30 minutes for a live Q&A session with your social media audience.
Listen to Ramsey's podcast here.
Ramsey would love to hear from you! Chat with him on Twitter.
Subscribe and get the AMP Up Your Social Media podcast on iTunes or listen below. Tweet about the show using #AUYSM or Tweet at us @AMPUpSocial. AMP Up Your Social Media is a proud member of the FIR Podcast Network.
About Ramsey Ksar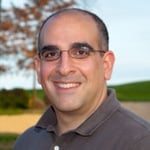 Ramsey Ksar is an entrepreneur at heart with a passion for consumer focused experiences built around intuitive user interfaces. He is currently the CEO & Chief Product Officer for Blyve, a ra Live Q&A Platform for today's leading brands and media companies that brings people closer to the things they love.
Prior to Blyve, he held key product management positions at Yahoo! including Director of Social Platforms (just prior to leaving for Blyve) as well as Group PM for Yahoo!'s critically important broadband relationships with AT&T, BT, and Verizon. At the Walt Disney Internet Group, he held the position of Sr. Director of Product Management for Search and Directory, a cornerstone position responsible for managing a large team that delivered Infoseek's search engine and the Go Guides open directory, as well as the launch of the Disney backed GO.com.
He started his career at Silicon Graphics (SGI) in 1995 in global business development where he was quickly thrown into a leadership position presenting to and managing many of SGI's Fortune 500 customers. The success he realized in this position translated into his first product management role where he created hardware/software bundles targeted at the nascent Internet service provider and web content creator markets.
He holds a degree in Mathematics and Economics from the University of California, Santa Barbara, where he graduated in 1995. Last but not least, with a little research, you will quickly find out that he is also an avid photographer who loves travel and lifestyle photography.
AMP UP Your Social Media is sponsored by:
GaggleAMP – Empower your employees, partners and resellers to amplify your social media.

SafeLinks – Know when your links on social media messages fail before you lose out on the people clicking on them.
Like the show? Join the AMP Up Your Social Media Gaggle and spread the word: http://gaggleamp.com/rmswime
The Three L's of Social Media
Choose the right messages for each social platform!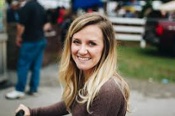 Stephanie Hacker
Stephanie Hacker is the former Content Writer at GaggleAMP.
Thinking About Starting an Employee Advocacy Program?