The 'AMP Up Your Digital Marketing' Podcast Presents:
Using Google Hangout for Social Commerce
Krishna De is an award winning digital communications, online publicity and content marketing strategist and mentor. She works with large business's HR, marketing and communications departments to develop comprehensive communications and marketing strategies. Krishna recently joined AMP Up Your Social Media's host Glenn Gaudet to discuss how Google Hangouts On Air can be used for social commerce.
"Don't ignore Google+!"
Listen in to the podcast to learn about:
Google Hangouts On Air: What are they and why should social media marketers care?
Examples of how brands are using HOA's in their marketing
How to use Hangouts On Air to support lead generation and social commerce
The latest App to be added to Google Hangouts – the Showcase App – what it is and how it can be used
Listen to Krishna's podcast here.
Krishna would love to hear from you! Chat with her on Twitter, connect with her on LinkedIn or visit her website at www.krishnade.com.
Subscribe and get the AMP Up Your Social Media podcast on iTunes or listen below. Tweet about the show using #AUYSM or Tweet at us @AMPUpSocial. AMP Up Your Social Media is a proud member of the FIR Podcast Network.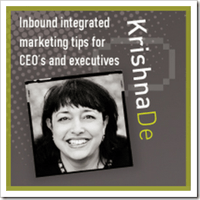 About Krishna De
Krishna De is an award winning digital communications, online publicity and content marketing strategist, and mentor. She is a regular commentator the media and her expertise in digital and social marketing is featured in several highly acclaimed books.
She is a sought after professional speaker and conference moderator at conferences across Europe.
Krishna guides business leaders on how to integrate content marketing, digital media and social technologies into their business strategy and has worked across numerous sectors including FMCG, energy and utilities, telecommunications, leisure and tourism, healthcare, technology, professional services, membership organizations, financial services, education, public sector and non-profits.
Her corporate clients are typically CEO's and senior leaders in business strategy, marketing, business development, Human Resources PR and communications.
Prior to establishing her own business, she was a board member of Guinness and Diageo in Europe, Asia and North America and therefore brings a to her workshops an in-depth insight into how digital communications can support the delivery of corporate strategy, enhance business performance and facilitate employee engagement.
AMP UP Your Social Media is sponsored by:
GaggleAMP – Empower your employees, partners and resellers to amplify your social media.
SafeLinks – Know when your links on social media messages fail before you lose out on the people clicking on them.
GaggleAMP works with Google+!
After Krishna teaches you how to get the most out of Google+, sign up for your free GaggleAMP trial to further support lead generation and social commerce.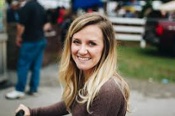 Stephanie Hacker
Stephanie Hacker is the former Content Writer at GaggleAMP.
Thinking About Starting an Employee Advocacy Program?