The 'AMP Up Your Digital Marketing' Podcast Presents:
Integrating Sales and Marketing Tips from Matt Heinz
Matt Heinz is the founder of Heinz Marketing, a Seattle-based marketing agency focused on sales acceleration. Heinz helps clients achieve sustained sales success by growing revenue from existing customers and cost effectively identifying and winning new customers.

Matt recently joined AMP Up Your Social Media's host Glenn Gaudet to discuss the need for an integrated sales and marketing approach via social media to increase sales and velocity.

"If they can build an elevator to the moon, I think we can figure out this reporting stuff eventually, too."

Matt offers these tips to help build a stronger bond between your sales and marketing teams:
Start with content. Understand who your audience is and what they care about. What are the primary problems, trigger events, or buying signals that you can engage someone with with good content that leads them to be interested and learn more about you?
Make social media a regular habit for your sales team. Setup a daily reminder for them to network daily. Everyday the marketing team should feed the sales team with content for them to post to their own social channels. Sales people should reply to any comments, and follow all of the people they talked to the day before on Twitter and send them LinkedIn requests.
Reuse and repurpose content. There are many tools available to automatically repost previous blog posts so you can reuse content with ease.
Listen to Matt's podcast here.
You can read more from Matt on his blog, Matt on Marketing, or follow him on Twitter.
Subscribe and get the AMP Up Your Social Media podcast on iTunes or listen below. Tweet about the show using #AUYSM or Tweet at us @AMPUpSocial. AMP Up Your Social Media is a proud member of the FIR Podcast Network.
About Matt Heinz
Matt Heinz brings more than 15 years of marketing, business development and sales experience from a variety of organizations, vertical industries and company sizes. His career has focused on delivering measurable results for his employers and clients in the way of greater sales, revenue growth, product success and customer loyalty. Matt has held various positions at companies such as Microsoft, Weber Shandwick, Boeing, The Seattle Mariners, Market Leader and Verdiem. In 2007, Matt began Heinz Marketing to help clients focus their business on market and customer opportunities, then execute a plan to scale revenue and customer growth. Matt lives in Kirkland, Washington with his wife, Beth, three children and a menagerie of animals (a dog, cat, and six chickens).
AMP UP Your Social Media is sponsored by:
GaggleAMP – Empower your employees, partners and resellers to amplify your social media.
SafeLinks – Know when your links on social media messages fail before you lose out on the people clicking on them.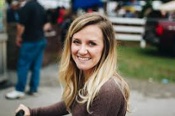 Stephanie Hacker
Stephanie Hacker is the former Content Writer at GaggleAMP.
Thinking About Starting an Employee Advocacy Program?