The 'AMP Up Your Digital Marketing' Podcast Presents:
Lew Sabbag and Content Marketing in Social Media
Lew Sabbag has 25 years of marketing experience and now works with businesses to improve their content marketing strategies. Currently, he is the VP of Social Media and Community for the American Marketing Association in Boston. Lew recently joined AMP UP Your Social Media's host Glenn Gaudet to discuss content marketing on social media.
"For smaller firms, just get started. Pick a channel, and get one running!"
Lew discusses tips for effective content marketing in social media:
Have a presence that allows your company to be seen as 'people'. Show folks that there's a friends and family side that is behind your company. Show when you work with the community to connect with other users on a more intimate level. This gives your client base a more comfortable way to communicate and engage with your company.
Create local pages for large companies. When your brand involves many businesses under one name, it's best to have local brick-and-mortar offshoots to have their own social media pages in addition to the brand page. You can answer local-specific questions, tame the 'trolls', and give local-specific information.
Give quick responses. Customers get frustrated quickly when businesses don't give a quick response. You'll likely see ranking improvements as customers find themselves interacting more reliably with your company on social media.
Change your message across platforms. As you localize the content better, you'll find that you can customize your content better as well. Humanize your efforts and keep variety across your social media platforms, as they're likely addressing different crowds.
Find the right person for the right answer. Have a list of approved answers for questions. When you find that your locality can't confidently answer standard FAQs, then it might be time to thank them for their question and funnel that question to someone higher-up.
Listen to Lew's podcast here.
Lew would love to hear from you! Connect with him on LinkedIn or Twitter.
Subscribe and get the AMP UP Your Social Media podcast on iTunes or listen below. Tweet about the show using #AUYSM or Tweet at us @AMPUPSocial. AMP UP Your Social Media is a proud member of the FIR Podcast Network.
About Lew Sabbag
Lew values going out and helping the community and hails from Reading, MA. He's also partner to a company called Business +1 and has a wide variety of side jobs aimed at helping the community with their marketing efforts. In Lew's own words, 'Here's to helping people, learning, doing the RIGHT thing and having FUN along the way!'
AMP UP Your Social Media is sponsored by:
GaggleAMP – Empower your employees, partners and resellers to amplify your social media.

SafeLinks – Know when your links on social media messages fail before you lose out on the people clicking on them.
Amplify your content.
Leverage your employees to amplify your current social media efforts.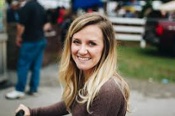 Stephanie Hacker
Stephanie Hacker is the former Content Writer at GaggleAMP.
Thinking About Starting an Employee Advocacy Program?