The 'AMP Up Your Digital Marketing' Podcast Presents:
The Importance of Content in Social Media Marketing
Gina Joseph is the Digital Engagement Manager for Cision, a PR Software Marketing Solutions company. Gina focuses on content creation, email marketing and engaging with clients. Gina recently joined AMP Up Your Social Media's host Glenn Gaudet to discuss the importance of content in social media marketing.
"If you are trying to kickstart your social media, do a lot of reading! I love RSS feeds! Look to see what is new and happening so you can share that content."
Gina offers a few "tricks" for content creation:
Meet regularly with your marketing and sales teams to have brainstorm sessions to decide on relevant content. Review questions and trends from your customers to create valuable content pieces.
Create evergreen content (Q&As, Tip Sheets, etc.) that you can repurpose and repost.
After you have your content, decide what the best avenues for sharing them are. Facebook? Twitter? Pinterest? Email? Who are you trying to reach and what would be most impactful?
Rather than just reposting content from last season, refresh it with up-to-date trends or new tips and tricks.
Listen to Gina's podcast here.
To connect with Gina email her at gina.joseph@cision.com or find her on Twitter at @cisionnavigator.
Subscribe and get the AMP Up Your Social Media podcast on iTunes or listen below. Tweet about the show using #AUYSM or Tweet at us @AMPUpSocial.
About Gina Joseph
Gina has a background rooted in the media and communications fields, including writing, marketing and public relations. In the past three years she has developed her skills in social media, and now uses social media platforms to engage with media professionals and to promote Cision. She uses social media tools to monitor customer inquiries, appreciation, complaints, and sales leads. She is constantly learning about new platforms and ways to connect digitally.
AMP UP Your Social Media is sponsored by:
GaggleAMP - Empower your employees, partners and resellers to amplify your social media.

SafeLinks - Know when your links on social media messages fail before you lose out on the people clicking on them.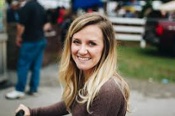 Stephanie Hacker
Stephanie Hacker is the former Content Writer at GaggleAMP.
Thinking About Starting an Employee Advocacy Program?