The 'AMP Up Your Digital Marketing' Podcast Presents:
Gary Lipkowitz on Social Media, Content Marketing and your Business
Gary Lipkowitz, Chief Operating Officer of GoAnimate, works with video and animation creation. Evangelizing cloud-based video, his goal is to grow your business! He specializes in content creation, financing, and international distribution. Gary recently joined AMP UP Your Social Media's host Glenn Gaudet to discuss social media, content marketing, and your business.
"Understand your brand, and understand that your brand promise is now a story - it is an ongoing narrative...and it is trans-media deliverable."
Gary discusses tips for content marketing with your social media strategy:
Have a public relationship with your customers all the time. In fact, that's what social media is! It's a way to market yourself in a public forum on a constant basis, reaching customers continually. Be transparent and be honest!
Embrace video. You knew this was coming! I've been around video my whole life, and I have always known that everyone wants to use more video. If we had the resources to do so, we'd all have television advertisements. With social media, we can utilize video and market to customers by using social media platforms.
Make your landing page engaging and relevant. You may still utilize text pages, but video is a great way to gain an advantage and capture folks who reach your pages. And don't just throw up any old video - make it useful! This leads me to my next point...
Plan videos and create professional videos. Keep a journal of ideas, because it's hard to be creative under pressure. Whatever you respond best to is what you'll have the most success with when developing video. Create a story, and keep your brand values in the back of your mind.
Your brand is a promise. That promise is now told in story form, and that could be done through video. Keep the origin story in mind as well as your vision, and keep your brand's promise as your primary thrust. Communicate your origin and your values for maximum effectiveness.
Listen to Gary's podcast here.
Gary would love to hear from you! Chat with him on Twitter or connect with him on LinkedIn.
Subscribe and get the AMP UP Your Social Media podcast on iTunes or listen below. Tweet about the show using #AUYSM or Tweet at us @AMPUPSocial. AMP UP Your Social Media is a proud member of the FIR Podcast Network.
About Gary Lipkowitz
An INSEAD and NY University alum, Gary has years of experience and education leading to his expertise in video creation and content distribution. He's a lover of both hockey and reggae and enjoys the art of storytelling and public speaking.
AMP UP Your Social Media is sponsored by:
GaggleAMP – Empower your employees, partners, and resellers to amplify your social media.
SafeLinks – Know when your links on social media messages fail before you lose out on the people clicking on them.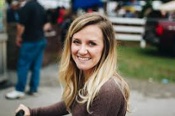 Stephanie Hacker
Stephanie Hacker is the former Content Writer at GaggleAMP.
Thinking About Starting an Employee Advocacy Program?