The 'AMP Up Your Digital Marketing' Podcast Presents:
Effective Brand Marketing in Social Media with Douglas Spencer
Douglas Spencer is a marketing and branding expert and is president at Spencer Brenneman, LLC. As a brand strategy consultant, he has 25 years of experience in branding and marketing. He ensures that brand strategies build businesses by connecting with customers and employees. Douglas recently joined AMP UP Your Social Media's host Glenn Gaudet to discuss brand marketing on social media.

"Get a handle on who is representing you on social. Understand where your voice is being amplified - and by whom. Do they have what they need?"

Douglas discusses tips for effective brand marketing in social media:
Strong brands are built on consistency. The tone of voice and messages in general demand consistency if they are to represent a strong brand. This includes employees out on their own time communicating with potential customers.
Governance is important with social media. Everyone needs to not only be held accountable but also get pointed in the right direction - and this is up to the company to get their employees on the right track! Strong governance programs take into account the needs of the business as well as the needs of each individual function (sales, customer service, marketing, etc).
Create employee advocacy programs. To be effective, blend these programs with other training. Employee advocacy comes naturally for many, so training on the tone of voice, translations on social media, and other aspects are left to the brand policies to harness these intricacies.
The tone of voice is important. With subtleties and intricacies, tone of voice can be a tricky part of the training! Getting employees focused without feeling restricted can truly boost your social media brand efforts.
Everything starts with a brand strategy. Understand not only what your brand IS but also what your brand WANTS to be! This will help you focus on a projection of yourself that you want to develop to connect with your ideal customer. Having everyone coming from the same place and going towards a common goal is essential.
Listen to Douglas' podcast here.
Douglas would love to hear from you! Chat with him on Twitter or connect with him on LinkedIn.
Subscribe and get the AMP UP Your Social Media podcast on iTunes or listen below. Tweet about the show using #AUYSM or Tweet at us @AMPUPSocial. AMP UP Your Social Media is a proud member of the FIR Podcast Network.
About Douglas Spencer
Douglas is a graduate of Marietta College, specializing in journalism. He's a board member of Fenway Health, AIDS Action Committee of Massachusetts, and Agency Spotter. You can find his dog popping up at his headquarters often on social media sites as well!
AMP UP Your Social Media is sponsored by:
GaggleAMP – Empower your employees, partners, and resellers to amplify your social media.
SafeLinks – Know when your links on social media messages fail before you lose out on the people clicking on them.
Amplify your content.
Leverage your employees to amplify your current social media efforts.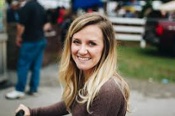 Stephanie Hacker
Stephanie Hacker is the former Content Writer at GaggleAMP.
Thinking About Starting an Employee Advocacy Program?