The 'AMP Up Your Digital Marketing' Podcast Presents:
Content Marketing Tips from Brittany Berger
Brittany Berger is the Digital Content Supervisor in the PR and Marketing department for eZanga.com. eZanga.com is a search engine specializing in online advertising and services. They offer local, regional, and national advertising campaigns focused on generating a high ROI. Brittany recently joined AMP Up Your Social Media's host Glenn Gaudet to discuss tips for content marketing.
"Take different approaches to sharing content. You'll get more success if you take a unique approach such as a quote from the content with a link rather than just the content's title and a link."
Brittany offers tips to help you decide on content topics, structures and styles:
Choose Topics. When you are deciding on topics for your content consider who your audience is, what your brand stands for, what platform you are posting on, your own expertise (or the expertise of the person you are interviewing), and what your competitors are talking about.

Vary the posts. It is important to vary the style of your posts: Infographics, bullet-style posts, articles, etc. Brittany explained that she determines what day she does each style based on how busy her schedule is. She explained that she can write a bullet-style post in much less time than she can write a paragraph-style post, yet still contain the same basic information. On her busy days, she writes quick posts, and on days she has less on her plate she writes more detailed articles.

Get sales involved in creating content and about your industry niche. Getting sales to produce content is likely near impossible, but you can still use them as an information hub! Interview your sales team to get the content: What questions are they hearing from customers? What are hot topics among consumers? What new products/services are you offering?
Brittany would love to hear from you! Chat with her on Twitter@BBerg1010 or find her on LinkedIn.
Subscribe and get the AMP Up Your Social Media podcast on iTunes or listen below. Tweet about the show using #AUYSM or Tweet at us @AMPUpSocial. AMP Up Your Social Media is a proud member of the FIR Podcast Network.
About Brittany Berger
Brittany is a 2012 graduate of the University of Delaware with a B.A. in Mass Communication and minors in Interactive Media and English. Through my classes, I've learned how digital and social media have changed our world and methods of communication. Brittany is the Digital Content Supervisor for eZanga.com. She believes that social media can be the answer to most questions in life (especially "How do you spend your free time?").
She has seen and experienced firsthand how Facebook, Twitter, LinkedIn, Pinterest, Google+, and more can help both individuals and brands with any problems they may have. She's dedicated her career to making sure social media can help as many people and businesses as possible. She's also discovered a love for email marketing and the inbound marketing methodology.
AMP UP Your Social Media is sponsored by:
GaggleAMP – Empower your employees, partners, and resellers to amplify your social media.


Social Media Communities Drive Local Business
Try these tips to engage potential customers via social media!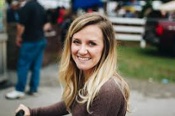 Stephanie Hacker
Stephanie Hacker is the former Content Writer at GaggleAMP.
Thinking About Starting an Employee Advocacy Program?