The 'AMP Up Your Digital Marketing' Podcast Presents:
The Importance of Design in Social Media Marketing
Desmond Wong is the content and community marketing manager at AgilOne, a software startup focused on predictive marketing analytics. Desmond joined AMP UP Your Social Media's host Glenn Gaudet to discuss the importance of design in social media content marketing strategies.
"Tweets that include an image are more than 2x as likely of creating a click-through!"
The chance of your Tweets getting lost in the Twitter feed is monumental. Desmond offers tips to help capture your audience on Twitter:
Work closely with your design time to create visual assets for social media.
If you don't have a design team check out other websites and social media channels for inspiration.
Keep your messages and your content branded.
Don't make your visuals salesy.
Include a call to action.
Listen to Desmond's podcast here and to see how Desmond gets visual on Twitter, check out the AgilOne Twitter account.
Desmond would love to hear from you! Chat with him on Twitter or connect with him on LinkedIn.
Subscribe and get the AMP Up Your Social Media podcast on iTunes or listen below. Tweet about the show using #AUYSM or Tweet at us @AMPUpSocial. AMP Up Your Social Media is a proud member of the FIR Podcast Network.
About Desmond Wong
Desmond is currently the Head of the Content/Community Marketing and Creative teams at AgilOne, a SaaS company specializing in predictive marketing intelligence. He manages AgilOne's lead generation efforts through the company blog, social media, and website.
Outside of content and community at AgilOne, Desmond coordinates and manages their creative team and agency to define, develop, and evolve our brand identity through video, design, and UX experiences. Working to build a brand that is truly inspiring in its messaging and visual creativity.
He is a former member of the Creative and Design team at HubSpot responsible for designing ebooks, social media graphics, banners, and other creative assets. He managed HubSpot's growing network of creative professionals and coordinated the hiring of freelance creatives for a variety of projects. The Brand and Buzz team handles everything from high-end case studies, videos, PR, events, and branding for HubSpot.
Previously a member of the ToFu (Top of the Funnel) team at HubSpot and responsible for creating and maintaining high quality, consistent, content used to help generate over 50,000 leads a month and over 1 million visitors to the HubSpot blog a month.
AMP UP Your Social Media is sponsored by:
GaggleAMP – Empower your employees, partners, and resellers to amplify your social media.
SafeLinks – Know when your links on social media messages fail before you lose out on the people clicking on them.
Amplify your content!
Once you have finalized your design and your content, use your employees, stakeholders, and fans to amplify your marketing strategy.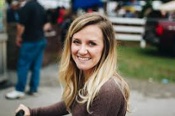 Stephanie Hacker
Stephanie Hacker is the former Content Writer at GaggleAMP.
Thinking About Starting an Employee Advocacy Program?