The 'AMP Up Your Digital Marketing' Podcast Presents:
Social Media Policy Creation with Mic Adam
Mic Adam is an online and offline networker specializing in social media marketing with 30 years of experience. His goal is to bridge the gap between social media and business by utilizing B2B and B2C sales and marketing, using his years of general management experience as a springboard. He thrives on the passion that drives sales and profits by demonstrating and diversifying the unique selling points of high quality products and services through traditional channels as well as new media. Mic recently joined AMP UP Your Social Media's host Glenn Gaudet to discuss social media policy creation and how you can get your employees on board with social media!
"Social media policy is a driver to create ambassadorship within your own company."
Mic discusses some tips for getting employees on board with social media through a policy:
Use your employees as ambassadors. Your employees are your greatest asset, as they (hopefully) support your business and have the ability to reach customers that you may otherwise not have had access to! Lasso those employees and utilize their networks to support and socially advertise for your business. Users tend to take individuals' posts as more authentic than those from a business, so your employees can be your ambassadors and will typically gain more traction in the social media world.
Don't be restrictive. Rather than limiting access and implementing 'negative' rules, encourage employee interactivity! Enforce simple and clear-cut policy rules that are fair and follow a standard code of conduct. Fortunately, most companies already have guidelines established, so simply enlarge that policy to encourage employees to be responsible when using social media. Look at the verbiage of your policy - how many cannot's do you have? Change the perception of your policy by encouraging people to speak out and speak up.
Have a good roll-out plan. Many companies don't have a social media policy in place, so implementing a policy can be a shock if done at once. Rather than being reactive during a damaging situation, roll out a well-organized policy over time - preferably not during a time when your marketers are doing any damage control! Design the roll-out with presentations to show and guide employees through the changes while learning about the policy and social media in general.
Protect your reputation. In many cases, people forget that the individuals that comprise the company, those personal conversations can have an impact on the company as a whole. Design your policy to encourage interactivity from employees on social media while protecting your reputation. Write simple and solid restrictions on what can and cannot be discussed by employees on social media websites.
Listen to Mic's podcast here.
Mic would love to hear from you! Chat with him on Twitter or follow his blog.
Subscribe and get the AMP UP Your Social Media podcast on iTunes or listen below. Tweet about the show using #AUYSM or Tweet at us @AMPUPSocial. AMP UP Your Social Media is a proud member of the FIR Podcast Network.
About Mic Adam
A father and entrepreneur, Mic Adam hails from Brugge, Belgium. He enjoys basketball, bicycling, and the outdoors and is fluent in both English and Dutch as native languages! He also spends his time volunteering with the Al-Anon Family Group Headquarters and publishes in De Tijd in Belgium.
AMP UP Your Social Media is sponsored by:
GaggleAMP – Empower your employees, partners, and resellers to amplify your social media.

SafeLinks – Know when your links on social media messages fail before you lose out on the people clicking on them.
Use your employees as ambassadors.
Create a Gaggle to make sharing content with your employees easy and effective! Start reaching their networks today.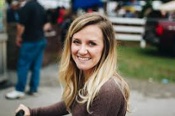 Stephanie Hacker
Stephanie Hacker is the former Content Writer at GaggleAMP.
Thinking About Starting an Employee Advocacy Program?