As any successful social media manager knows, visuals drive customer engagement. In fact, video posts are shared 12 times more often than a simple text and link post and photos get approximately 2x as many likes. So, it's not surprising that Instagram and Pinterest are two of the most rapidly growing social media platforms. With 70 million active users, Pinterest now refers more traffic to outside websites than Twitter.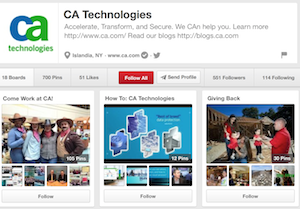 Although it was not originally designed for it, Pinterest has now become a hot spot for employers, recruiters and career boards. CA Technologies, based out of Islandia, New York, subtly advertises job openings and shows off their company as an employer on Pinterest. CA Technologies provides IT management solutions that help customers manage and secure complex IT environments to support agile business services. Organizations leverage CA Technologies software and SaaS solutions to accelerate innovation, transform infrastructure and secure data and identities, from the data center to the cloud.
CA's Pinterest page includes boards that highlight the company's unique culture – community, diversity, awards, benefits and more. One board titled "Come Work at CA!" gives an inside look on what it's like to work at CA Technologies. The board features photos, infographics and videos of events, offices, employee testimonials and benefit overviews. Interested candidates get a real look at life working at CA.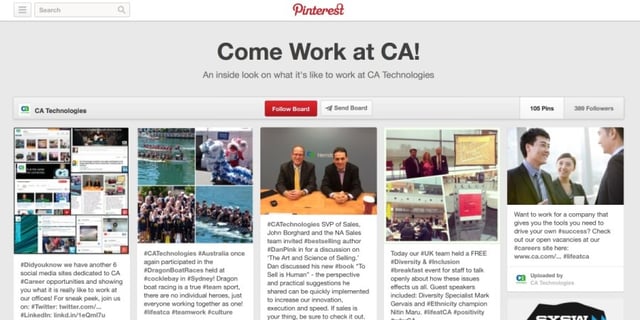 CA has honed in on the travel search, one of the most searched topics on Pinterest. They pin visually appealing images of the hiring locations, offices and nearby locations to help prospective candidates stumble upon their job listings.
As Pinterest is not a channel for direct communication, CA Technologies cross posts on other social networks such as LinkedIn, YouTube, Facebook and Twitter to encourage further engagement.
To learn more about CA Technologies and their social marketing recruitment strategies visit their website and follow them on social media.
CA is among many other companies successfully using Pinterest as a recruiting tool for job seekers. Check out these other company pages: