We need to take a moment to pay hommage to our customers. They believed in GaggleAMP and GaggleAMP delivered. Our customers understand that social media can be an engine that drives marketing results in a way previously un-attainable. They see social media results such as Retweets, Likes and interactions. However, what drives our customer base is results. Social media is part of their marketing strategy and needs to have measurable ROI. GaggleAMP helps companies drive qualified traffic back to their websites. The results are increased eyeballs, lead counts and ultimately sales.
Here is a sample of companies that are using GaggleAMP.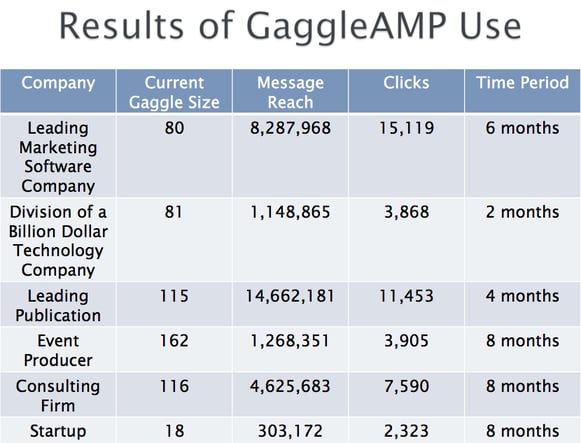 Don't take our word for it or even the results of our customers. Try it for yourself. GaggleAMP comes with 7 days of unlimited use and no obligation. Give it a try and see the results you can get. It takes 30 seconds to set up a Gaggle. See results today!