For any successful social media strategy, content curation is incredibly important but can be just as challenging.

Sharing great content on social media that's relevant to your target audience is crucial for both brands and people who want to be authoritative resources in their industry. You're offering your followers interesting content while giving them an opportunity to engage with you. They might like the content you share or appreciate your perspective on the topic and start a conversation.

This is why content is such an important part of employee advocacy. Supplying marketing-approved content to an employee population allows people in your organization to share on social media, be viewed as an authoritative resource in your industry, and represent your brand as credible and knowledgeable. Any successful employee advocacy program needs a great content strategy to fuel it.

The issue is consistent content curation for an entire company, especially a large enterprise and global business, and it can be exceedingly difficult to keep up with, said Kristen O'Neill, Corporate Social Media Manager for TransUnion, a GaggleAMP customer.

"For me, this was the biggest challenge to running a program," O'Neill said in a webinar. "[It requires] constantly populating a platform with fresh content that's going to be relevant to our many users."

The Importance of Curating Content

The trick to having a great content strategy for your employee advocacy program is to have general content that anyone in your company can share about your industry or your organization's initiatives. At the same time, you want specific content that only certain parts of your organization share.
For example, if your business has offices in the United States and in Germany, you might have third-party content from German publications that only people in your German office shares. Another example is content specific to your software engineers that you don't want your Human Resources team share, and vice versa.
An employee advocacy platform such as GaggleAMP can help with this. By using its tagging feature, you can assign topics to different segments of your organization very easily. Having said that, curating content for all these parts of your brand on a consistent basis can still be a tall task.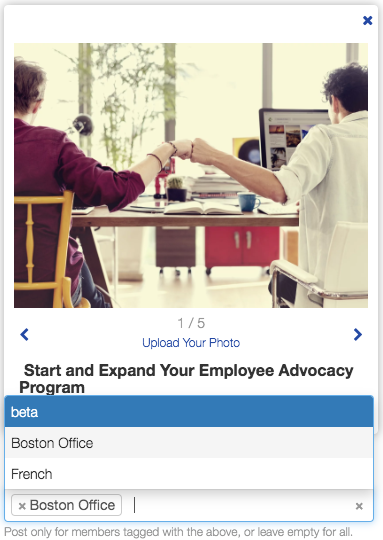 So what can you do? How do you keep content curation from getting tedious?
Simplify Content Curation
What if you had some help in finding great content that's relevant to your industry? Rather than scouring the internet for new articles, checking different newsletters, and reviewing Google News and other websites for the latest blogs, you want a service to do all the heavy lifting on your behalf. Even better, that service should plug directly into your employee advocacy tools.
That's how Scoop.it works with GaggleAMP.
Scoop.it is a content curation service that is highly customizable and integrates with GaggleAMP.
With Scoop.it, you enter search terms on topics you want to find content for. You can enter specific publications, key terms, and even blacklist sources of content that you don't want to see.
As a tool, you can use Scoop.it strictly for content curation and block any competitors' resources so they don't show up as options for you to curate. As a research tool, you can generate topic pages to see what kind of content your competitors put out. As a PR monitor, you can track your own brand mentions to see who is talking about you, condensing Google Alerts and other widgets you may have already set up.
Using Content Curation to Fuel Employee Advocacy Campaigns
When curating content for employees across multiple departments, you can set up different topic pages that's a hub for relevant content to your keywords.
Your first page may consist of industry-related, generic topics suitable for anyone in your company to share. A Human Resources department may be more inclined to share industry-relevant content but from the perspective of managing employees or recruitment. And don't forget about your sales folks or technical staff. The sales team may be interested in content that highlights prospects, elevates their value proposition, or adds validation to why a company should invest in their solution or industry. Your technical team often can share a very different perspective on industry news, too.
As an example, your favorite employee advocacy solution launches a new product. Here are the ways in which the different departments may choose to share that announcement with messaging tailored to them:
Marketing - Our company just launched the most robust, state-of-the-art employee advocacy solution for enterprise-level employees. Check it out!
Sales - If you're a big business without a sophisticated employee advocacy platform, you could be missing out on a groundswell of leads generated by your staff. Call me and I'll walk you through how to get started.
Human Resources - It's time to dust off the employee handbook and revisit your social media policy. Employee advocacy platforms are creating reach you can't get without your staff participation. Ours just launched with this concern in mind.
IT - Our new state-of-the-art employee advocacy tool was built on Google Angular and takes data visualization to the next level.
See how the message is different for each department? That's because people want to share messaging that is relevant to their community. Oftentimes you attract your tribe, and your tribe looks a lot like you. Share what is relevant to you and you'll attract others like you.
How Does Scoop.it Make It Easy?
Once you set up your topic pages, pick which pieces of content you like and drop them right into your Gaggle. As part of Scoop.it's integration with GaggleAMP, Scoop.it will directly connect to your Gaggle. Simply pick blogs or news articles you like in your hubs and shoot them on over into your Gaggle.
This takes steps out of the content curation process and saves you time by searching and finding quality content just for you.
By making your content curation process easier, you can focus on other aspects of your employee advocacy program or your role in your organization. Be successful in less time and effort while creating incredibly valuable messaging.