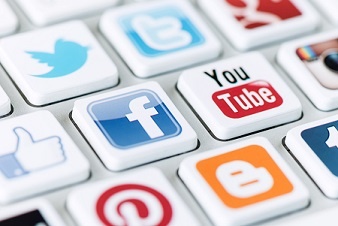 Perusing Facebook on-the-clock has been the bane of many-a-manager's existence for many years, threatening the productivity of employees - or so they thought. One of our points at GaggleAMP is to show the increase in productivity and the success of harnessing employees as social advocates is a great way to turn social media activity into a lead-generating machine. Along those lines, Facebook just released Facebook for Work, a social networking and collaboration service designed for business use.
Facebook for Work is designed with the personalized experience of the traditional platform - including newsfeeds and messenger services - combined with an advanced array of collaborative tools tailored towards team-style working tasks. For instance, users are able to upload projects and create work groups that users can utilize together as a collaborative tool. They can communicate in these private groups aimed at completing tasks, and they'll also be able to upload and share documents to those groups.
"Facebook isn't looking to simply extend what they already have. They are planning to wall it off and build in more business-grade features -- like file sharing and co-editing -- along with most of the features we already know," said Rob Arnold, principal analyst and program manager for unified communications and collaboration for Frost and Sullivan Inc., based in Mountain View, Calif. "When an employer adopts Facebook at Work, they can construct it with a set of new accounts. Users can then link their work and personal accounts together so that they are logged into both at the same time." The Facebook for Work product is available on iOS and Android apps as well as through the main Facebook site as well.
"Because it's a cloud service, Facebook could easily allow businesses to invite external users into group workspaces because they won't have to come in through a firewall," says Irwin Lazar, vice president and service director at Nemertes Research Group Inc. The best part is that Facebook is already a well-known and easy-to-use platform, and this business version will thus be easier to train employees for usage!
Coupled with the release of Facebook for Work is an enhanced security system to protect businesses, protect workers, and protect the relationships therein. If an employee leaves the company, there will be ways for the business to deactivate that account. Facebook would also have to ensure encryption and data retention for legal purposes, and the service might need to demonstrate that data is not traveling across international borders for compliance reasons.
In the end, Facebook for Work operates like many other apps, working in conjugation with your traditional Facebook app but separate. Because of the early nature of the product, there are a lot of questions in the air. The company has yet to work out, for example, how it might price the app, whether it will monetize the service through ads, or how third-party apps will work. For now, Facebook Platform has been disabled on the Work product, meaning no ads or apps. As with any new release, there are sure to be updates and integrations down the road, so stay tuned!
Facebook can help your business
Seven ways to get more shares on Facebook!