Team collaboration leads to a boost in your company culture, morale, and productivity.
Simply put, when collaboration is present in the workplace, employees work together openly and harmoniously towards a common goal. Without strong communication, there could be confusion and failure rather than productivity and profitability.
When employees work together, there is a pool of shared knowledge and expertise that sparks creativity, innovation, and faster delivery. Employees are excited to be part of the bigger picture. When employees have a stronger connection to their jobs, they are more likely to stay longer and work optimally.
A lack of collaboration also reduces productivity.
About 86% of executives identify ineffective collaboration and communication as a major cause of failure in business, according to Salesforce.
For your company to be successful, you need to prioritize team collaboration in the workplace, especially these days. Here are five ways you can do just that.
1. Highlight Each Member's Strengths
One of the reasons why employees start feeling disconnected from their jobs is that they are not given a chance to exercise their best skill set. Everyone likes that good feeling that comes when you can bring your A-game to the table. Knowing that a team is depending on you for a certain skill helps you shine and build on that skill, which increases confidence and a sense of belonging.
On the other hand, failing to utilize one's strengths can make you feel unvalued. This decreases team collaboration and hurts productivity.
Everyone on your team is skilled differently, but the whole team thrives when each one of them is allowed to bring their best to the table.
2. Improve Employee Engagement
Team collaboration has a lot to do with employee engagement in the workplace.
When employees have a positive connection with their jobs, they are willing to go the extra mile to see that the organization succeeds. This means that they will be committed to teamwork and working together with the rest to bring optimal results.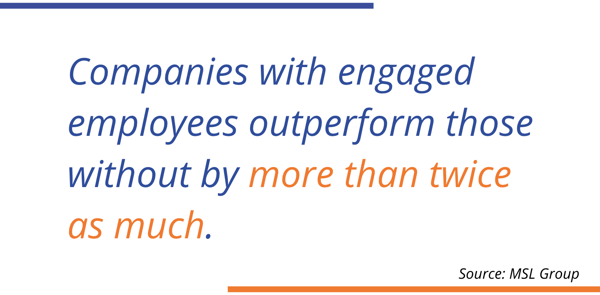 Companies with engaged employees outperform those without by more than twice as much, according to the MSL Group.
Employee engagement is best started from the onboarding process. Ensure that new employees are exposed to your positive company culture. You can assign a mentor to help familiarize them with the workplace, and help them form relationships with the others on your team.
Additionally, build a sense of trust by allowing employees a flexible working schedule. This includes allowing them to work from anywhere. For instance, an employee living or visiting Denver can opt to work in a coworking space. Allow them that choice.
3. Utilize Collaboration Tools
We are living in times when technology has made things simple in our personal lives and workplaces. Employees no longer have to work near each other thanks to technology. Why not utilize this technology to improve team collaboration across a remote workforce.
Collaboration tools bring together many aspects of team collaboration in one portal. Slack, for example, allows employees to share documents, files, and training videos at a click of a button. Instant messaging has never been this effective. Employees can converse back and forth within the team and across departments in a simplified way. It also allows video conferencing, which means that employees can meet virtually to brainstorm on a project easily. Employees can utilize the search feature to find the information they need at any given time.
4. Encourage Workplace Interactions
Sometimes it's difficult to collaborate with someone you don't know very well. As a manager, you should put in efforts to create an environment that sparks conversations and leads to workplace relationships.
In an office environment, you can practice hot-desking. This is where employees aren't obligated to sit next to the same person the whole day or the rest of their time in an organization. It encourages interactions with people who might otherwise not talk. Another trick is an open office layout that increases the chances of bumping into each other and starting conversations.
But in today's world of remote workforces, you can encourage team bonding activities over Zoom by having employees play games with each other on assigned teams. Doing this periodically can build camaraderie, improves your culture, and increases productivity.
5. Lead By Example
Most employees have their eyes on their managers and are more likely to align their behavior in the workplace with how the bosses conduct themselves. If you want to foster collaboration within your team, you should start showing them how it is done. Show them that you can cooperate at every corner in the workplace.
You can start by sitting down with each employee from time to time to listen to his or her ideas, requests, and suggestions. This goes a long way to show them that you are approachable and are willing to work together with them in any way. This will also lead to your employees feeling valued.
Employees cost money to hire and maintain. They want to work in a place where their potential is maximized. Encouraging team collaboration in the workplace boosts productivity, improves company culture and morale, and increases retention rates. By making this a priority, you can reap the benefits.