The purpose of employee advocacy is to make an impact on your target audience with your brand messaging by leveraging the influence of your employees.

People trust other people more than they trust ads or brand accounts. By having a person at your company share a message or piece of content on behalf of your brand, it's seen by an audience your brand account might not reach. Your employees get your message in front of people who already follow and trust this person, meaning they're more likely to engage with their post.

But let's take it a step further.

What if your employees not only promote your message on social media but create content that promotes your brand as well? What if your customers promote your brand this same way? This is considered user generated content, or UGC, and it creates authentic engagement between your staff and their network. User generated content is found in guest posts, webinars, case studies, testimonial videos, or a simple social post.

Take a look at this blog post from Patrick Cadigan, Client Executive at GaggleAMP, on gamification and employee advocacy. The post shows his knowledge of the topic and resulted in more valuable connections by displaying his credibility.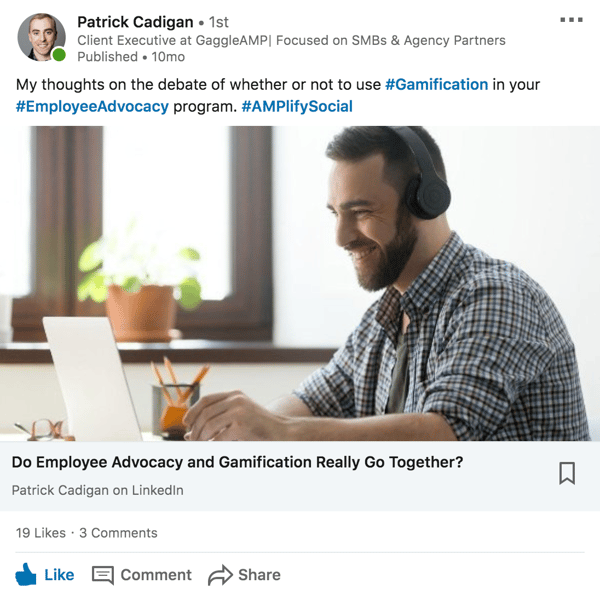 For the same reasons that a person promoting your brand on social media has more influence than your brand account does, user generated content does even more so. Promoting user generated content from employees and customers, that speaks highly of your brand and amplifies the effectiveness of your employee advocacy program.
"Employees are authentic, trusted, and influential," said Michelle LeBlanc, Director of Content at Fuseideas, during a session at AMPlify, an employee advocacy conference. "We can't ignore that."
Use your employees' influence to your advantage in promoting your brand's credibility and initiatives.
Encourage Employees to Create Content
When you're first starting an employee advocacy program, you want to empower your employees who are active on social media to promote content from your company. They'll need a solid understanding of your company's mission and how promoting content benefits them.
The benefits for employees in an employee advocacy program are that it will expand their own reach and elevate them as a credible resource in their industry. In time, they may become a micro-influencer and have their own personal brand that will continue to grow. While they're building their influence they can create content about industry trends and challenges in addition to the organization they work for.
Of course, many organizations limit their employees use of social media for fear they may say or do the wrong thing, often becoming part of a social media policy organization-wide. Refraining from letting employees speak their mind on social media is reassuring but limiting the authenticity of your brand.
"Ultimately, you hired them because you believe in them," LeBlanc said. "So trust them to go out and share your messages."
Encourage employees to create content that you can promote, highlight them in your content, and it will go a long way, not only with your social engagement but also with your employees feeling valued. Remember, your employees are professionals and experts at what they do.
User generated content allows your employees to be on full display, sharing their firsthand insight into a topic. It highlights their knowledge and credibility in an area.
How to Leverage Employees in Content
There are many ways to utilize user generated content, but first, you should have a clear goal in mind.
Insight and Credibility
For example, if you want to promote a software developer's insight into a topic around coding, encourage them to write a blog post about the topic and give their extensive and professional thoughts. You could also have them on a podcast episode or interview them for a video snippet that you can promote on your website, a blog post, or on social media. Lending their advice to other developers is helpful, and that should be the goal of any content written for an organization.
Company Culture
Human Resources initiatives like promoting your company culture can be promoted with images and videos of employees at work. Interviewing employees about what it's like working at your organization and highlighting reviews of your company on Indeed and Glassdoor can promote your company culture. If an employee generated their own content with a positive message, video, or image about your company, that's something you can promote through your employee advocacy program.
Events
Share images and videos that your attendees post on social media of events you're hosting. Often times you'll have attendees who write blog posts about their experience at the event, which you can promote through your employee advocacy program.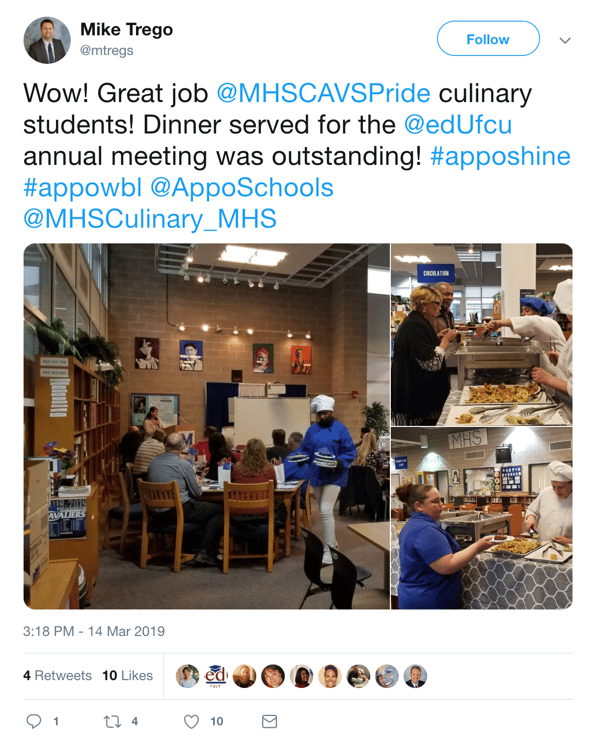 Testimonial videos where attendees talk about what they gained from going to your event and why they want to go again are helpful, too. Having a camera crew at your event to take B-roll video and interview attendees makes this process a lot easier.
If you have a podcast, invite one or two attendees on to talk about a topic in their expertise, but ask them a few questions about attending your event. This will get you a good sound bite that you can repurpose for promotion.
Again, user generated content is extremely powerful because it's firsthand insight from someone who relates to the reader in a way that your brand's content, social posts, and advertisements just can't. No matter what that content is, it's coming from someone who is trusted by your audience far more than you are. Take advantage of this.