Employee engagement is about getting the most out of your largest and most underutilized marketing resource: your employees. As an influencer of advocacy and an indicator of happiness, understanding the value of employee engagement is essential to investing the most effort therein. Unfortunately, many are still unaware of what employee engagement really is, and there are many different ways of describing this essential piece of the marketing puzzle to a variety of people. Click here to learn the history of employee engagement.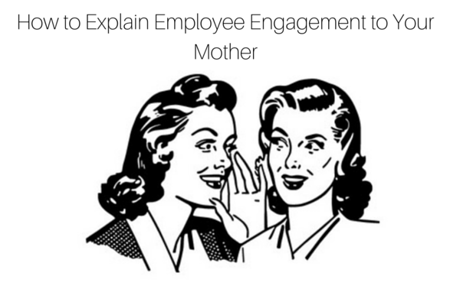 While your employees need to know their role in engagement and C-level professionals need to know the results of engagement, it's sometimes the most crucial for those who are 'new to the game' to understand the core elements that truly make up the foundation of engagement. If you're having trouble, think of it as what it would be like if you were tasked with describing employee engagement to your mother. Breaking down employee engagement into its foundational pieces can be effective when describing the key elements of engagement.
To understand employee engagement, it's sometimes easier to describe what an engaged employee may look like to an outsider. An engaged employee may boast some of the following qualities:
They are fully absorbed by their occupation.

They're enthusiastic about their work.

They likely take positive action to further the organization's reputation and interests.

They may advocate on behalf of their company and brand.

Happiness and satisfaction as well as pride and loyalty drive their motivation.
Also, one can easily extrapolate then what a disengaged employee would look like. From being unhappy with their job to just 'getting through the day', just about everyone knows someone who is disengaged. And while a disengaged employee may retain their position with their company through retirement years, an engaged employee is more likely to be happier doing so and may actually improve upon the company rather than just contributing to it.
While you could easily take a survey of your employees to reveal how engaged they may be by asking pertinent questions and assigning answers to numerical results, the fact of the matter is that someone (like your mother, for instance...but any outsider, really) is likely to feel a sense of engagement from employees simply by walking into an office. One can tell whether or not someone is engaged based on how they work and their attitudes with their job. The energy of your team can be extremely revealing when it comes to the question of whether or not your employees are engaged, and an outsider can sense the energy of your team as well.
Explaining employee engagement to your mother boils down to basics. You can gloss over the core aspects of engagement and what an engaged employee may look like, but your mother is likely to get a better sense of engagement by their interpretation of your company's energy and your employees' happiness.