The purchasing process for virtually all products we find today has irreversibly changed. Most importantly people are conducting their own research and making decisions before even speaking with another person. Your sales team is the face of your brand and putting a personality to your product on social media can be their greatest strength.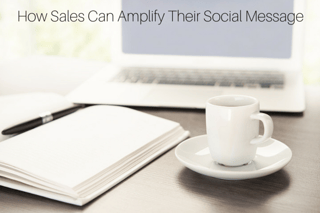 78.6% of sales people engaged in social selling outperform those who weren't using social media.
The best part is that it's extremely easy for sales team members to amplify their social message with little time commitment and effort.
Here are some helpful tips that your sales team can put into action today to amplify their social message:
Blatantly Ask Users to Engage

: It can be off-putting for a brand to ask users to retweet or share posts, but when an actual person is asking you to do something, it can improve your results exponentially.

A study

by Dan Zaralla found that 'Please ReTweet' Generates 4x More ReTweets than not asking for engagement at all. Your sales team should follow up with these interactions in order to foster further loyalty from users, which can only help your amplification needs in the future.
Capitalize and Target Users at Different Stages in the Buying Process

: It's hard for companies to understand each and every one of their followers and where they are in the buying process. On the other hand, your sales team members have a smaller slice of that pie and, thus, may be able to further engage users at all steps in the buying process, guiding them further down the sales funnel. This ensures that the articles that sales team members are sharing are the most pertinent to the groups they're sharing amongst, and their responses to the engagements from users on said posts only help to amplify the message and keep it alive for longer.
Use GaggleAMP

:

GaggleAMP

is one of the easiest ways to help sales to amplify their social message, and

Sales for Life

published an article that includes an interview with GaggleAMP co-founder Jason Nochlin. With GaggleAMP, those sales team members who don't necessarily have the time to dedicate to creating their own content or getting overly involved on social media can at least push out company content onto their own profiles. It's extremely user-friendly, and it could be the bridge that gets wary sales team members towards using social media more often, helping them to engage with users and foster new relationships.
Social media has a 100% higher lead-to-close rate than outbound marketing (State of Inbound Marketing).
Your sales team members are typically viewed as the advocates for your brand, benefitting the company and sales for the brand. But sales team members themselves can benefit from social media amplification by helping to improve their own customer user base and increasing their own sales (and for companies that pay sales team members for reaching and exceeding sales goals, this amplification becomes an essential tool to success). To amplify their social messages, sales team members simply need to capitalize on what makes them so great at advocating on behalf of the company, which is that the customers generally trust these employees more than the brand itself and feel more loyal to the employees than the company. Use these qualities as tools for amplifying your message further.

Download our ebook to learn how other departments can benefit from employee advocacy.