Employee engagement includes everything from an employee's relationships with colleagues, to their understanding and connection to the organization's values and objectives.
Engagement can be a complex concept—one workplaces have historically struggled to achieve. According to The Muse, a shocking
70 percent
of U.S. workers report being disengaged at their job. Additionally, 90 percent of employers believe employee engagement strategies influence business outcomes, but only 25 percent have a strategy in place.
Lack of engagement, coupled with sparse engagement strategies, can be a significant obstacle in a business's overall success, so many organizations are looking at how technology can boost engagement. Below are just a few ways emerging technology solutions are influencing engagement strategies for human resource professionals and employees alike.
HR Tech Jumpstarts Employee Advocacy
The Muse also uncovered data suggesting only 40 percent of a workforce knows its company's goals, strategies, and tactics. The remaining 60 percent are likely to feel less involved in the bigger picture and their roles in it. This can ultimately lead to higher disengagement rates.
Employee advocacy programs enable company leaders to share official messages and curated content with their workforce. These programs also allow individual employees to interact with branded content by enabling them to perform activities such as sharing to their followers outside of an organization.
By genuinely engaging with their workforce, employers can also gain valuable spokespeople and brand advocates. Employee advocacy helps companies expand their reach to a broader audience, with employees sharing authentic messages across a variety of social channels. Many HR managers use employee advocacy tools to simplify the process for both parties. These solutions are customizable and interactive on both desktop and mobile so employee advocates can easily contribute to a program.
Company leaders can segment employees by grouping and tagging content to ensure the right content gets in front of the right teams. For example, a manager could tag their sales team in a product-related article and their recruiting team in a culture-related article. When an employee from either group shares that content, they can send it directly to the most relevant community.
HR Tech Enables Constant Performance Dialogue
Two-way feedback is a cornerstone of HR strategy.
Data from The Muse also shows 43 percent of highly engaged employees receive feedback once per week, compared to 18 percent of less engaged employees. It's important that employees and managers frequently contribute to an open dialogue. Not only does this provide greater clarity into performance, but it also sets the groundwork for increased accountability surrounding progress benchmarks and behavioral goals.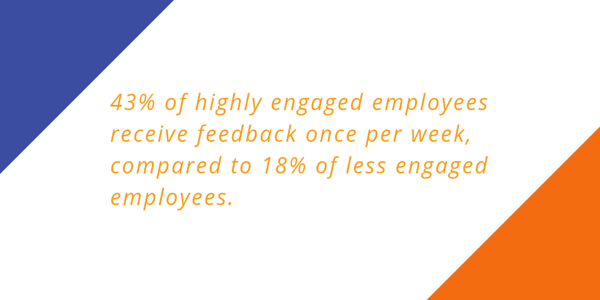 Many HR professionals leverage digital in their talent pool development strategies because of their pivotal nature in enhancing the performance and career progression of a workforce. Tools like these modernize performance management by automating the processes and tying performance directly to rewards. These solutions also provide employees and managers with time to have performance conversations more frequently and with more accurate data, whether the meeting is a quick check-in or in a formal review setting.
With constant access to data and insights, anyone can send feedback or recognition to another individual in real-time. This creates a culture that intrinsically motivates and engages employees to take a more proactive approach to their career progression. It also provides managers with a workforce whose performance aligns better with business objectives.
HR Tech Creates an Inclusive Collaborative Environment
Remote work is one of the fastest-growing HR trends.
Data from FlexJobs states in 2017, "remote/work from home" was the fourth most popular job search term. In the same year, 43 percent of U.S. workers reportedly worked remotely at least occasionally (one or more times per week). Remote work is becoming a more standardized benefit. Company leaders must invest in digital technologies to ensure all employees, regardless of physical location, are able to collaborate on projects efficiently.
The growing market opportunity has led to project management and communication tools that keep multi-location teams organized. Additionally, many companies also use video conferencing software and services like Google Drive to power their projects. A work environment that's inclusive of remote workers helps to engage on- and off-premises employees equally. Technology tools can connect scattered teams, empowering them to unite toward a common business objective.
Employee engagement is a business-critical metric. HR technology levels the playing field for employees and managers by fueling smarter social advocacy strategies, empowering more effective feedback, and connecting physical and remote employees.
In the future, company leaders can expect to see a greater push for digital tools and solutions that automate lower-level tasks and enable greater personalization in the employee experience. With a combination of technology and human expertise, companies can turn employees into super-charged brand advocates who drive value for the business.