Social media departments in industries with heavy regulation can find their response times severely hindered by their internal approval processes.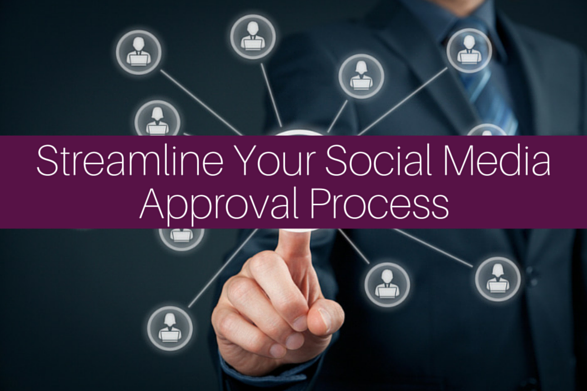 We have created strategies to deal with approval situations in varying degrees of compliance level, as well as in number of approvers. Over the years, we've learned a few tips that make the approval process work smoothly, no matter how many people are involved.
1. Setting expectations: Each department pays a part in the social media approval process and they need to understand where they fit in the how to prioritize approvals, and expected timelines for responses. Setting clear expectations allows the approval process to go faster in the future.
a. Build your process: Everyone participating should have a list of instructions and expectations. Assume that everyone involved in the approval process has other priorities on their plates. The easier you make it for them, the more likely you are to get approvals you need in a timely fashion.
b. Revise and evolve: Some organizations meet monthly, others meet quarterly. It doesn't matter how frequently you meet, but regular meetings to evolve the approval process helps keep the process functional for all participants.
c. Get everyone at the table: This can be difficult to do. You might have an organization spread across different buildings, cities, or even countries. You won't be able to meet for every response that needs approval, but there are two times you should try to get everyone physically (or through teleconferencing) in the same room:
2. Eliminate bottlenecks: If you have a single person covering a role in your approval workflow, there will eventually be a time when you need that person's approval and they are unavailable; they may be tied up in a meeting, sick, or on vacation…Plan ahead to minimize or eliminate bottlenecks before they become an issue - arrange for everyone in your approval workflow to nominate a backup approver and keep your work flowing smoothly.