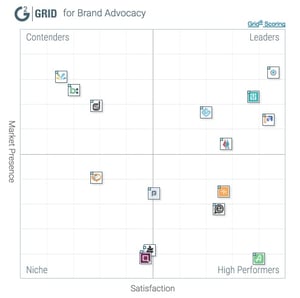 G2 Crowd released its Fall 2017 Brand Advocacy Software Grid Report where GaggleAMP was the top employee advocacy solution listed. We feel this is a great accomplishment for the company because it's recognition from the customers themselves that they are getting what they want out of the software. G2 Crowd is a business software review outlet, and rather than ranking advocacy products based on analysis, it aggregates customer reviews and summarizes the results based on its own scoring system. The idea is that products with the best reviews get the best score. "I'm thrilled," said Glenn Gaudet, CEO and founder of GaggleAMP. "We developed a solution that taps into people's passions and makes it easy for them to be a part of a team that's digitally engaged. The result for these companies is more reach, more top of the funnel activities, and reaching more goals from a digital marketing perspective."
Having the highest G2 Score of all employee advocacy platforms is a proud achievement for GaggleAMP. The G2 Score is a single numeric summary of the market presence and customer satisfaction scores, where GaggleAMP had the highest totals for both of any employee advocacy software. Like all successful companies, our mission is built around addressing customer needs and innovating around customer feedback.
Adaeze Okpoebo, a marketing automation manager at Nasuni in Boston, said in a G2 Crowd review that GaggleAMP's easy interface on the end-user side really helps push employees into Nasuni's advocacy program.
"It's very difficult to get buy-in from folks outside of Marketing to promote content on social channels," Okpoebo said. "With this tool, our Sales, Support and Engineering teams just need to make two [or] three clicks and they're promoting on LinkedIn and Twitter."
The purpose of GaggleAMP is to get employees to promote content of their business, however, if the software is hard to use, we know that employees wont use it. Hearing these results from the G2 Crowd report further substantiates the user experience of GaggleAMP, and we are proud of this accomplishment.
"It's validating because at the end of the day it really is about the customers," Gaudet said. "Our focus is around making it easy to use and making it fun. Those are the kinds of things that resonate with customers."
GaggleAMP's simple to pick up interface allowed for more employee buy-in, which resulted in increased engagement on social media, said Jeffrey Bourque, a digital marketing manager at Tata Technologies in Michigan, in a G2 Crowd review.
"[What I like most is] the ease of use for employees," Bourque said. "This app makes it very easy for me to create content for our social media brand and then distribute it to our employees and brand champions for easy distribution to their social media channels."