Great communication is critical in the workplace. Not only does it allow for productivity and team camaraderie, but, more importantly, great communication fosters employee advocacy.
This critical branding and selling strategy has seen an increase in recent years, with more than a 25 percent growth in employee advocacy program adoption, and a 30 percent increase in social selling according to
The 2017 State of Employee Advocacy survey.
Despite this, many companies still struggle to get employees to share, but the reasons for not sharing often stem from a lapse in communication.
The greatest challenge of an employee advocacy program is sustaining active employee participation. In fact, the same survey found 68 percent of respondents ranked this as their number one challenge. If you're struggling with this aspect of your employee advocacy program, communication may be a factor to consider.
Here's what you need to know about how this critical element of company culture can impact employee advocacy.
Keeping Everyone "In the Loop" is Critical
Amplify: Champion transparency
If your employees don't know what's going on, how can they share on social media or with new connections at networking events? Simple: they can't.
This consistent flow of communication is critical if you want employees to share. Yet, 31 percent of employees wish their manager communicated with them more. This lack of communication leads to a lack of transparency, which means employees don't have anything to talk about—even if they wanted to.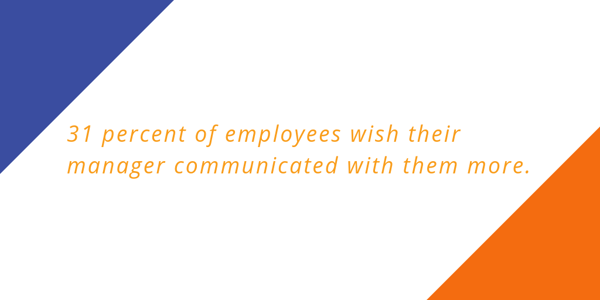 There are many ways to champion transparency, but the easiest is simply putting team meetings on the calendar in advance. Schedule monthly meetings at the start of each quarter, ensuring everyone is available and continually in the loop.
Your Social Sharing Needs to be On Point
Amplify: Be consistent on social media
One of the easiest ways for employees to share is to encourage them to reshare the content you're already posting. However, if your social media presence is lacking, you can't expect your employees to be active for you.
Make this part of your advocacy strategy as important as direct communication with employees. If you don't have an in-house marketing team, now's the time to invest in someone to manage your social media—whether you hire someone full-time or tap into the gig economy and bring on a freelance social media manager.
As you make this transition, take the time to create and be clear with your social media policy, suggests Kara Cowie, Forbes Council Member. She says:
"A social media policy has many benefits: Your employees have a better understanding of your strategy and communication goals, and the organization is better protected from security risks and legal issues such as privacy laws and loss of brand credibility."
Employees Need Something to Talk About
Amplify: Prioritize a connected culture
All-hands meetings are critical for keeping employees up-to-date on what's happening within the company. Unfortunately, employees aren't going to share that stock is up and your EBITDA score is looking good. They want to share exciting new products and awesome initiatives—the things they care about.
What's more, it's important to orient your all-hands meetings to the employee—both in what you share and how you share it. Connected employees are more invested in what you're sharing with them.
One way to do this is to make these communication opportunities more engaging. Sli.Do shares a few simple ways to do this by making your all-hands meetings more interactive:
Start with an employee poll.
Appreciate the team with "silent heroes and heroines."
Crowdsource team highlights and discuss.
Review seasonal numbers in a quiz format.
Rally and align around goals.
Host transparent Q&As.
Collect feedback in the moment.
Time is Everyone's Most Precious Resource
Amplify: Make communication easy
Sustaining employee advocacy may be as simple as making communication easier to facilitate between management and employees. This is where an online chat tool comes into play. There are dozens of tools available for any budget and provide extensive benefits for maintaining communication:
"Besides saving time, team communication apps have other great advantages, such as equal access to information in real-time and for future reference, unaffected by the geographical location of team members," explains communication experts at Hubgets.
Ensuring communication happens in both a timely and easily accessible fashion is critical to giving employees something to talk about. Invest in a tool that makes communication easy for everyone, from both the management and the employee level, to take an important step toward employee advocacy.
Using an employee advocacy solution, employees are served ready-to-share content to both enhance communications as well as to engage with their community. Employee advocacy platforms like GaggleAMP make it easier to facilitate the next step: sharing curated content that's readily available for employees to share. From communication to sharing, with the right tools in place, it can all happen seamlessly.
Communication and Employee Advocacy
Communication has to happen before employee advocacy can be consistent. When you maintain transparency, make it easy to share and access information, and keep employees engaged with what's going on within the organization, you may find it easier to facilitate a successful employee advocacy program.