One of the most beneficial things a brand can do is turn their most passionate fans into brand ambassadors, but many companies overlook their employees.
Your employees represent an untapped resource that offers plenty of potential for your business, not just in terms of how they enhance your reputation but also in spreading your message online. Here are some ways you can make your staff effective brand ambassadors online.
Training on Brand Culture
Employees can't be brand ambassadors without first understanding the values and ideals of the company. After all, you can't sell something if you don't know what it is or how it works. So, an important first step in transforming your staff into brand advocates for your business is providing adequate training and guidance.
Your staff needs to be experts in their own company culture so they can celebrate and promote the core message of the brand online. This also provides them with the confidence to deliver when it matters most and empowers them to share the message of the business.
Professional Social Media Profiles
Pretty much everyone has at least one personal social media profile these days, but a great way to help employees amplify the voice of the business is to encourage them to have their own professional social media profiles.
If they don't feel comfortable using their social media accounts to promote their brand, then having a separate professional account may be the way to go. These profiles show audiences that your employees are real people with their own opinions and interests, but it also highlights that they are dedicated to their job and the business.
It's a good idea to create a social media policy that encourages staff to share without worry too. According to a Pew Research Center survey of over 2,000 people, 63% of respondents said their employer does not have a policy on how they can present themselves online.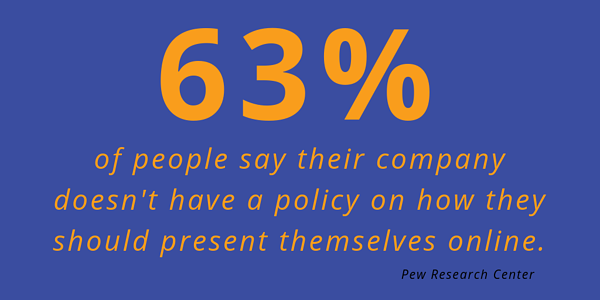 Many people are hesitant to talk about work on social media because they are worried they'll say something wrong, so make sure that there aren't too many strict guidelines as this might have the opposite effect in discouraging brand advocacy.
Many people want to talk about their jobs online and promote the brand, but they are worried about saying something wrong. Social media training, and encouraging them to be brand advocates can go a long way.
Your employees are the people behind your brand, and by representing your organization online, they can make your brand look more personable and authentic.
Present Employees as Thought Leaders
It's important to show that your employees have a great understanding of the industry they work in. If your staff is respected as thought leaders in their own right, it provides a huge benefit to the business in helping to enhance reputation and credibility.
"Gaining the trust of clients is important," says Jon Monk of Guarantor Loans. "We act as thought leaders for the sector by providing useful information that will be genuinely helpful to people who might use our service." Thought leadership feeds great publicity, garnering the attention of more people who want to seek your advice, so invest in educating your team to reap the rewards.
Thought leadership builds up the professional reputation of your employees, but it also presents your brand as more credible. Over 83% of buyers say thought leadership makes a brand more trustworthy, according to LinkedIn.

Provide Insights Through Your Blog
A company blog can be a great way of promoting your employees as brand ambassadors and thought leaders, providing great opportunities for developing useful and share-worthy content.
One way to do this is to have members of the team write blogs on topics relevant to the industry and the company and publish them under their name. Not only is it advantageous to the business, but it also enables staff to get more involved with the creative side of the business. This allows them to provide their ideas, which can improve their job satisfaction and motivation.
Including employees in your content strategy helps employees look more credible, and presents your brand through your content as more personable. Even if your employees are not the author of your content, you could still prop them up by featuring them in your content, whether it be blogs, videos, podcast episodes, or something else. You can quote them for their expertise, and find other ways to feature them in your content.
Allow Employees to Have a Role in Positioning Company Culture
Ultimately, employees should want to be brand ambassadors – they should be proud of the company they work for and be passionate about the business. The best way to do this is to give them a say in company culture.
For employees to enjoy where they work, they need to have a say in the culture of the brand and make sure that it reflects the people who work for the business. Otherwise, the culture can feel inauthentic, and it can be difficult for individuals to feel connected to or passionate about a brand that they don't feel represents them. By allowing employees to get involved with the culture of the business, it enables them to develop a genuine passion for the brand naturally.
Plan For The Repetition of Brand Messages
The core brand messages of the business should be clear to everyone, so your employees must understand the values of the company. Brand ambassadors need to be able to present a unified idea of the company, particularly online when multiple members of staff will be interacting with people and uploading content.
Consistency in messaging is of paramount importance, not just in terms of the brand's reputation but also in creating a united team of people who understand the priorities and decisions of the business. When employees can explain the direction of the business, they can help it achieve its goals far more successfully.
When staff can generate brand exposure, recommend their products or services to others, and represent the values of the business, it provides fantastic benefits to the company as a whole. It's the kind of promotion that all employees can get involved with, but social media can help in leveraging their voice and expanding the reach of each staff member.
Through the right training and encouragement, you can transform your staff into powerful brand ambassadors for your business while also empowering your staff in the process.