An employee advocacy program is incredibly beneficial, but the work doesn't stop once you get the program started.
You want to consistently nurture and maintain your
employee advocacy
program, meaning keep those involved active, while expanding the program to new members. Getting
buy-in for your employee advocacy program
is a huge step towards kicking things off and getting your initiative started, but you need to keep pushing the program forward. While your employees will be active early on, it is common for employees to be less active in your employee advocacy program over time.
Fortunately, with program champions, department managers, and company executives on your side, you are not in this alone. There are many ways to keep employees active over a long period of time including gamification, but you want to align your program with your members and their goals.
The more employees you have that stay active over a long period of time, the bigger impact you'll see. A good target to shoot for is having roughly 70% of your engaged employees active in any given 90-day stretch.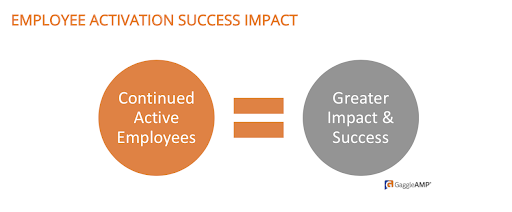 How to Keep Employees Active
There are steps you can take to encourage your members and keep your employees engaged in the program.
Overall, you want to turn employee advocacy into a pillar of your company culture. It needs to be something you introduce to new hires as part of the onboarding process. Although employee advocacy is ultimately voluntary to all of your colleagues, it should be something everyone knows about and understands.
There are three keys to making sure your employees stay active. If you can pinpoint which area is currently your biggest shortcoming, then you'll be able to focus on that area and see the biggest gains by improving it.
Personalize Your Employee Advocacy Program
First things first, you want to make sure your employees understand out of the gate what is in it for them. What do employees get out of employee advocacy? If they don't know that, then they won't see the point in putting in the effort, and even if they do contribute for a short while because you asked them to, it won't be long before their effort drops off.
Make sure your employees know how social media benefits them. It can expand your digital presence and even lead to new opportunities and speaking appearances on podcasts, webinars, events, and more. If you need examples of people who have seen this kind of success, the customer success person from your employee advocacy platform provider can get that to you.
You need to make sure that your program is aligned with the goals of your members. This means providing employees with specific content and activities to carry out that makes sense for them.
If you have an article on the latest digital marketing trends, it might make sense to have your marketing team share it, but it might not make sense for your software engineers to share it. If you have content that would be interesting for your target audience, you might have both your sales and marketing teams to promote it, but it might not make sense for too many other departments.
Salespeople can practice social selling to nurture prospects down the funnel, it can lead to more opportunities, and of course more leads. For your human resources representatives, social media leads to more hires, applicants from top talent, and wider promotions of events.
Support Your Members
Once you have an employee who wants to contribute to your employee advocacy program, you need to make it easy for them to do so. This means you need to support them as best you can. Supply them with content, write suggested captions for them to edit or choose to use, suggest people for them to connect with, find posts for them to engage with, and more.
You want to consistently audit your program. Make sure you're getting enough people responding to your suggested actions on a consistent basis. You don't want to act as an enforcer, making sure everyone does what they signed up for. But if you have people who want to be part of your program, they can take the place of people who are consistently inactive.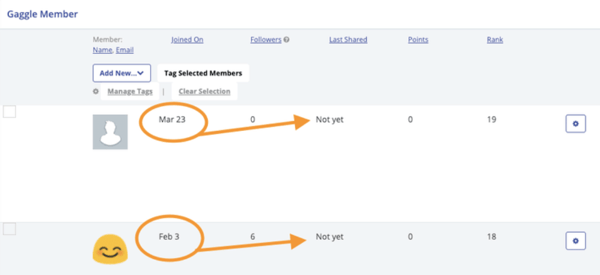 GaggleAMP allows you to quickly identify which program members are active in your program.
In terms of keeping people accountable, give some responsibility to the team leads. The champions of your program will help as will managers and executives. They'll keep encouraging current members to stay active and participate, but they'll also encourage people outside of your program to join.
They can send out emails to employees inviting them to join. You can record videos of them talking about the importance of the program and email it out to colleagues. This is a powerful way to get new members.
The champions of your employee advocacy program are your power users – the people who are the most active and dedicated to your success. They can help you bring in more members and display what they get out of the program and why it's important to the organization.
These same employees may have suggestions on the content they think you should share. Let them know you're listening and are open to their suggestions whether it's specific content they found or topics they'd like you to promote more.
Communicate With Your Members
You want to be transparent about your program's goals, how it's performing, and who is making the biggest contribution.
Highlight your best employee advocates. It's always helpful to acknowledge employees for hard work. They will appreciate it, but other employees will understand that they'll get rewarded if they're active in your employee advocacy program.
A great way to keep employees both in and out of your program in the loop is through a recurring newsletter. You can send it out as frequently as you'd like, but the goal is to keep your employee advocacy program in the minds of not only current members but potential members as well. Highlight posts that did really well, content that saw the most engagement, and members who you think deserve some attention.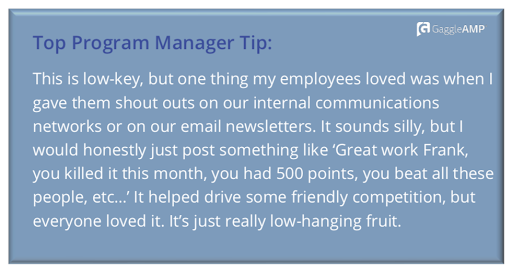 You should have employees be aware of campaigns your marketing team is pushing and any company news. Do your best to create some buzz around sharing posts around these campaigns, news, and product launches, for example. By doing this, you will engage current members and drive new membership.
In our next post, we'll get into more tips for growing your employee advocacy program and training employees to become top advocates.