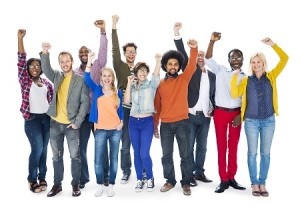 While transforming employees into social media advocates is certainly a battle on its own, your company's culture can influence the success rate of your efforts. The impact of your company culture is important when you're launching your employee advocacy program.
With billions of people utilizing social media on a daily basis, your brand is given numerous opportunities to engage these users routinely. Unfortunately, reaching each and every user is simply impossible for one manager alone. Cue: Employee Advocates. Our emphasis on growing a strong base of employee advocates is backed up by success stories from companies nationwide.
While this may seem easy enough - and while jumping on the employee advocacy bandwagon might sound like an easy sell - your company's culture can affect the efficacy of your efforts. Indeed, the environment that hosts any growing or changing population can either hinder or enhance the results of said growth. The same goes for employee advocacy programs and the company culture they reside within.
"Culture is infectious – it's viral and it's central to accelerating your business. When you have a unified team that is rushing towards a common goal, you will create rocket ship trajectory. Every industry leader needs unbounded exponential growth to succeed in today's world."
The above is a quote from Wehuns Tan, CEO of a Canadian technology company called Wishabi that could be the poster child for illustrating the importance of corporate culture in maximizing productivity in the workplace.
We've mentioned before the importance of getting C-level employees, leaders, and managers on board with social media. The reason for that is that they affect the conduciveness of your efforts to acquire employee advocates. Even more so, their support can boost the employee advocacy program as a whole.
A company rooted in hostility towards utilizing technology for marketing purposes will find that their advocacy programs falter under the weight of negativity. How should you expect an employee to advocate on social media for your company if your company doesn't value social media as an effective marketing tool? It's a top-down scenario that can affect the entire outcome of your employee advocacy program.
In order to ensure that company culture is conducive to a successful advocacy campaign, secure that leaders within the company are on board with the program before you start. Next find the employees that are truly engaged with the business on a daily basis and make them your champions. Let them help you spread a culture rooted in passion for the brand and entrepreneurial spirit. Create a foundation that employees can build a sturdy marketing platform on, and you'll find that your success is more easily attained!
Need more tips?

Here's how your employees can help you create content!