Useless that's what it is.
Your content marketing journey will be wrought with challenges, but setting the stage for success begins and ends with recognizing the dual-sided reality that goes into every piece of content - the creator and the audience. Each has their own purpose for the content and enterprises that fail to recognize that reality will end up with content that doesn't translate into sales, which after all is an enterprise's ultimate hope of any content created, no matter other goals.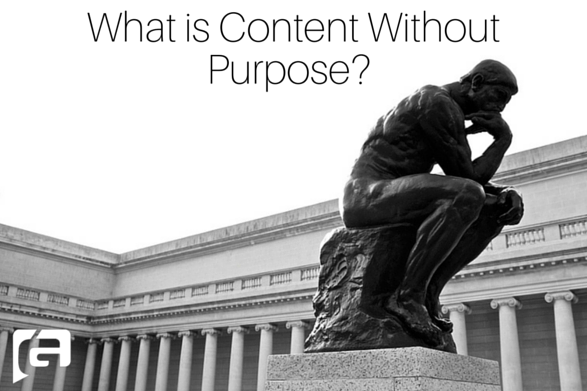 An enterprise that focuses its attention on the audience wins, no matter whether you actually survey your customers or simply watch their behavior within social media communications. Remaining audience focused endures as the most effective tactic in developing content that will fulfill the purpose for each specific content shared. Purpose is, after all, interwoven throughout each aspect of the process of content creation. Without purpose, social media advocacy will likely fall flat.
No matter the size of your business (or your audience), the content creators should consider six important aspects before even beginning to develop the actual message of the content.
Ask yourself these questions before you begin your next content creation for social media advocacy:
Who is visiting your site – landing on your landing page, that is?

Measuring your traffic is essential, especially in light of whatever goals you have set up. Is anyone even showing up on your site? Most importantly, you are trying to reach your targeted audience – if you haven't, then you may not be translating your content into sales.
What are you offering your audience to get them to read your content?

It is a well-known fact that people like free stuff. Does that mean you take from your future profits to give away a sample? Maybe. Or maybe you provide knowledge, a trial period for use, or some other takeaway aimed at a specific audience. How this plays out will depend on your goals for the content and the industry you are in.
Why are you creating the content and what do you hope to gain from its distribution?

Basically, you need to set a plan, a goal (or set of goals) – a purpose. No matter your endeavor, without a plan for your social media advocacy's your content will travel aimlessly both within itself and in social media.
Where is your audience coming from -that is, from what source of content?

Set up landing pages that capture various pieces of information – distinct ones for calls to action links in each different content you produce. This way, you know specifically from which social media content your audience is coming – and which is most successful. You can even use this page to have readers enter contact information, especially if you are giving away some takeaway as noted above.
When do you know if your content strategies are working?

That's simple, by testing multiple methods of implementation. Maybe employ split testing, where you try two or more approaches and see what works best. Those landing pages you created to measure where your audience links to your content work well to help with tracking – so be sure you have set up different pages for each outlet driving traffic to your site.
How do you know if your content is fulfilling its purpose?

It cannot be stressed enough how important data analysis is to the success of any campaign. You have collected it through various methods, such as those landing pages, now you need to address what the information means and use it to reframe both what content you create going forward and also how you use it. Then you go back and repeat the process.