The roadmap for employee engagement starts with a fresh face and continues for the duration of their employment.
From the first time a user hears about you until their final sale, it's important to understand their full story as it relates to your brand. How did they hear about you? How did their lead grow into a sale? What type of relationship did they have with your company? Your employee advocates are the people who reach out and touch new customers, acting as the guide through their journey. Click here to learn how to turn employees into brand advocates. But the final sale gets its roots long before the user is ever contacted, and understanding the roadmap to employee engagement is what will help your brand acquire more advocates and thus potentially more customers.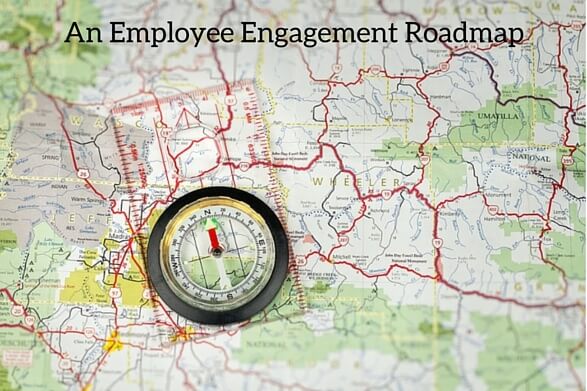 Day One
The road to employee engagement starts on day one; when your employee is first hired. Between their first day on the job and becoming an advocate, there are many roads to navigate. Their attitudes and behaviors can change and be altered by the brand itself, pushing them down different paths and routes. Indeed, attitudes can be shaped by your employees' personalities and tempered by what your company provides.
Finding Their Voice
Once an employee becomes familiar with the job, they start to feel a little more freedom to promote their company and maybe even more pride to fuel that freedom. For companies that have a product they're selling, employees may begin to take to social media and other marketing platforms on their own to try to boost sales. Other brands that are looking for engagement can also benefit from these promotional means, and your employees are likely to discover this on their own time without being directly influenced by the company to do so (especially those employees who are highly ambitious).
Gaining Momentum
Employees will begin to set themselves apart from their coworkers based on their dedication, ambition, and engagement with the company. It's easy for management to spot employees who are happy with their job and those who are not by looking at their engagement activities. Do they participate in social media? Are they promoting your brand on their own accord? The ones who engage the most may already be advocating on behalf of your brand, and those who are not can easily be swayed to do so.
Enabling Engagement
This is one of the biggest landmarks on the roadmap to active engagement. When employee engagement strategies empower an employee towards advocacy for the brand, then your company is primed for targeting these employees as strategic pieces to the marketing puzzle. One's original path can be altered in this direction through the support of the company. Those brands that foster employee engagement may likely be rewarded with more advocates in the long run.
The roadmap for employee engagement starts with a fresh face and continues for the duration of their employment. While advocacy is a landmark of sorts for engagement (and a useful one, at that), it's certainly not the end of the road. Continue to promote engagement and key in on those who aren't engaged, as this could be a red flag that your employee is disinterested in the company or unhappy.