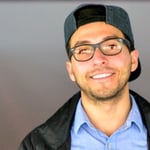 Gabe Villamizar is the Social Selling Director at HireVue. He has five years of related work experience in social selling lead generation, social media marketing and online marketing strategy in the SaaS B2B industry. Gabe has extensive multi-cultural experience with the ability to develop and implement new SaaS social marketing tactics to build strong B2B relationships and generate targeted leads.
Gabe is one of the leaders in social selling. Early on he saw how social media could be leveraged as an organic way to connect with prospects. Almost like the phone of past generations, LinkedIn is his go to tool when it comes to reaching out to new contacts. Gabe has presented at several events including the LinkedIn Sales Connect and regularly trains professional on how to start to sell on social media. He offers this tip, "Don't get caught in the social selling "friend zone". You'll get no action."
Learn what tips and insights Gabe has to share with his fellow panelists at AMPlify May 11th & 12th.