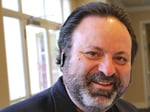 Shel Holtz, ABC (Accredited Business Communicator) formed Holtz Communication + Technology (HC+T) in 1996 to help organizations communicate more effectively using online and digital technology. Shel brings nearly 50 years of experience to his assignments; he has expertise in strategic corporate and employee communications, corporate public relations, crisis communications, media relations, financial communications, marketing communications, change communications, and compensation and benefit communications.
At AMPlify, Shel will discuss the how marketing, sales, or customer service are becoming part of the "experience." Research reveals that people increasingly would rather pay for experiences than to acquire merchandise. People who share great experiences with companies influence the perceptions of people in their network about the brand's reputation. Companies study every step of the "customer journey" to ensure great experiences at every step. Yet when it comes to our own employees, the idea of the experience is an alien one.
Meet Shel at AMPlify and learn how employee perceptions would change if we approached work as an experience.