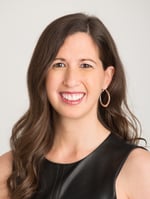 Elizabeth Clor is the Senior Director of Content Marketing at Clarabridge, a technology company that helps the world's leading brands understand and improve the customer experience. In this role, she is responsible for content marketing, social media, public relations, and analyst relations. She has 15+ years of experience in marketing and communications, primarily for B2B companies in the DC metro area.
Elizabeth will be participating in the Social Selling panel at this year's AMPlify Conference. When it comes to social selling Elizabeth says "Any business that is not engaged in social selling is missing a huge opportunity. Social media is replacing traditional media at a rapid clip—it's where most people get the information they need to do their jobs or meet their life goals. Empowering your sales team to quickly and easily provide thought-leadership content to their network establishes them as a valuable resource and keeps them top of mind to customers and prospects. This is worth its weight in gold."
Join Elizabeth and the rest of the social selling panelists for an engaging discussion around social selling strategies and what it takes to empower your sales team to start leveraging social media as a sales tool.