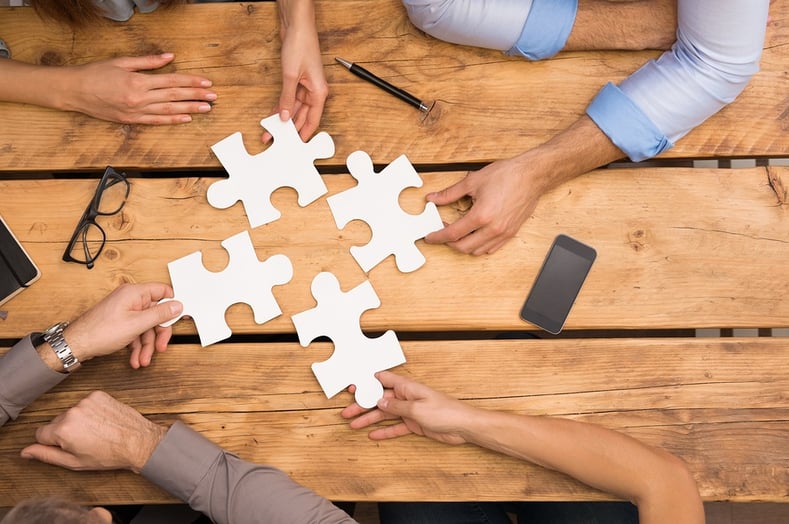 2017 will see a lot of battle lines drawn the field of customer experience, and in order to win you need to align your marketing with your employee engagement efforts.
This battle is already underway – in fact, it started years ago. A 2014 survey by Gartner indicated that 89% of companies expected to compete mostly on the basis of customer experience. According to that same survey, less than 50% of companies surveyed believed their customer experience capabilities were superior to their competitors, but two-thirds expected to be leading the industry (or at least exceeding their peers) within five years.
The customer experience is the next competitive battleground.
Since 2014, the battle for top position in customer experience has increased in intensity. Gartner predicts that in 2017, 50% of consumer product investments will be focused on customer experience innovations. This means that companies are focusing as much efforts on their customer's experience with their organization as they are on the products they sell.
Why is there such a huge need for investment in customer experience? Well, the Internet has shrunk the world. You customers can find your competition with a few clicks of the mouse, and technology closes the gap between products. As Jerry Gregoire predicted, companies are trying to differentiate from each other on customer experience.
However, there is one challenge. It turns out that many companies had neglected something important in their strategy – their employees.
Authentic employee engagement is quite often the missing piece to a superior customer experience. You can have a top-notch customer relationship management system, a high-end phone system, and every technological advantage possible, but unengaged employees can still derail your customer experience.
The reverse logic holds true as well: engaged and empowered employees can be an incredible competitive advantage for your company, even if your competitors have a technical advantage.
Fred Reichheld, the creator of the Net Promotor Score says it best with this quote,
"You can't have happy engaged customers without happy, engaged customer-facing employees."
Greg Monaco, Co-founder of Monaco Lange takes this a step further when he says:
"I'd say that each of your employees is a tweet away from being customer-facing."
Why you should add your employees as a target audience
Providing lengthy, complex materials to employees and expecting them to read and perfectly retain the information? Those days are gone. There are simply too many items competing for attention. When it comes to internal communications, Chris Hannegan, executive vice president and U.S. practice chair of Employee Engagement at Edelman recommends asking yourself:
If my employees have a choice between reading a ten-paragraph email from the CEO or taking the latest Buzzfeed quiz on sex, which are they choosing?
It is a sobering question for many people who work in communications…why not market to your employees just as you market to your customers? The idea of "internal marketing" is relatively new, but the concept has some very exciting potential. Your employees are already doing the job they are paid to do, but they can do it better; studies indicate highly engaged employees are 38% more likely to have above-average productivity.
Your employees are a vital component of your overall customer experience. Whether or not they are passionate promoters of your brand, they represent your company to customers and prospects, and 50% of employees are already talking about their company online. This is not a liability, this is an incredible opportunity.
If you can convert your employees into advocates, the potential benefits are astonishing. Just think, 60 employee advocates can increase your company's reach on social channels by as much as 1,000%.
Engaged and passionate employees make for a happier workplace, a better customer experience, and they can have a big impact on your company's bottom line. The best part is, your marketing teams already have the tools at their disposal to motivate the rest of your company to participate.


Using the tools of marketing in employee engagement
While they are definitely a distinct audience, your employees can be approached with many of the same marketing tools you use to approach your prospective clients. Let's take a look at a few of the resources available to you:
Gamification: the same gamification tools and concepts that you use to encourage interaction with your customers can also be applied internally. The principle is the same – you use game mechanics to help make tasks more engaging and enjoyable. Happy and engaged workforces have less employee turnover and help contribute to a better customer experience.
Recognition: recognizing your most valuable clients is an excellent way to keep them engaged with your business. The same strategy can be used with employees. You should not provide them with meaningless rewards, but if you link your employee recognition program to specific business goals, employees can see a tangible impact for their work. The best part is, not all rewards need to be monetary.
Content marketing: all the customer-facing staff in your organization should be intimately aware of how the products and services you offer address the pain points of clients. They want to do a good job. Taking the time to train and educate your employees about what your company offers, helps them provide a better customer experience—it also can increase happiness and lower employee turnover.
If customer experience is the battleground in which to beat your competition, your employees are your best line of offense. Why not inject the DNA of your marketing department into the rest of your company—the end result could be a happier, more profitable organization that provides a significantly better customer experience. It is time to align your marketing with employee engagement
Download our perspective paper to learn more about creating authentic engagement.