An employee advocacy program drives engagement, builds trust, and extends your
marketing
reach.
Employees who generate exposure for your company using their own voice and actions are considered employee advocates, and the value of these advocates surpasses any purchased marketing program you may invest in with your marketing. These advocates drive engagement, build trust, and extend your marketing reach. They are fueled by purpose and empowered by passion, and they're a critical component to Gaggles and our entire GaggleAMP philosophy. If you don't already have an employee advocacy program in place, organizing one is the key to a coherent social media marketing campaign. This eBook can help you develop a social strategy with your employees.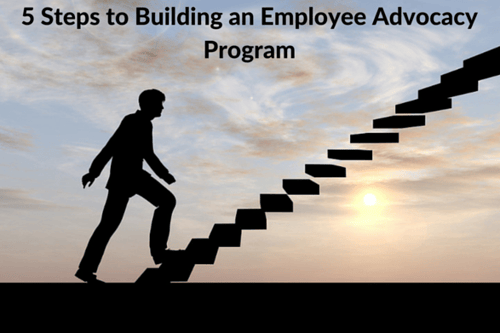 Follow these 5 steps to building your employee advocacy program.
Develop goals and key performance indicators (KPIs). Before you can even begin to involve your employees, you'll need to fully develop your program. This requires a breakdown of your goals for the program as well as KPIs, as these are what will help focus your efforts and drive your successes. They'll also be useful when analyzing and tracking your advocates and their interactions on social media.


Craft 'professionally personal' accounts with your employees. Before your new advocates can get started, they'll have to create 'professionally personal' social accounts. While many employees likely already have their own personal accounts already, a separate personal account should also be created (unless they're willing to keep their existing personal account operating within company policy) for professional use.


Train your advocates. Hold a training session to ensure that everyone is aware of the policies, the 'do's and don't's', and the goals of employee advocacy. During this time, you can help them create accounts while training them on company policies and how to address a myriad of situations. Be sure to use this time to also foster a sense of freedom on social media (while operating within company policy), as this helps your advocates come across as more personable and authentic. This is also the time to get them familiar with GaggleAMP and how to share content with their Gaggles.


Taper company involvement.

In the beginning, use

GaggleAMP's employee advocacy platform to funnel content ideas or topical company information their way, giving them valuable avenues of resources to help them build their own engaging information. Later, they'll know where to find the information as well as what types of information your company values. In this manner, you are able to gradually introduce them into employee advocacy, helping them gain confidence in a trust-built manner.


Hold ongoing classes.

Policies are likely to evolve, especially if you're just starting your employee advocacy program. Hold ongoing classes for your advocates to answer questions and keep them up-to-date on company policies as well as information pertinent to social media. This ensures that they're constantly supported by the company during their time as an advocate.
Download our eBook below to get started with your own advocacy program.